Upgrade to Dragon® Medical Practice Edition 2
The right Rx for your EHR
Dragon Medical Practice Edition 2 is the ultimate solution for a speech-enabled EHR. Over 200,000 physicians worldwide have already integrated Dragon Medical speech recognition technology into their practice with dramatic results that include a quick ROI.
Dragon Medical Practice Edition 2 can change the way you practice medicine by reducing the amount of time you spend on clinical documentation, saving you money on transcription services, promoting higher reimbursement levels, and giving you more time to focus on quality patient care.
The correct diagnosis matters
The first step to a speech-enabled EHR with Dragon Medical Practice Edition bundles is a thorough analysis and an accurate diagnosis of your unique workflow. We create complete solutions with your specific needs in mind. We also offer a complete line of Dragon Medical Practice Edition accessories so you always have access to the technology you need.
Ongoing treatment for your EHR
Technology without the right support can create unnecessary challenges. We eliminate the headaches associated with inadequate customer service. When you purchase Dragon Medical Practice Edition 2 from us you secure expert installation services, customization of features that are most important for your practice, and certified training services so you can hit the ground running with your new workflow solutions.
---
Call us today to learn more about how we can help you diagnosis and treat your EHR pain points.
---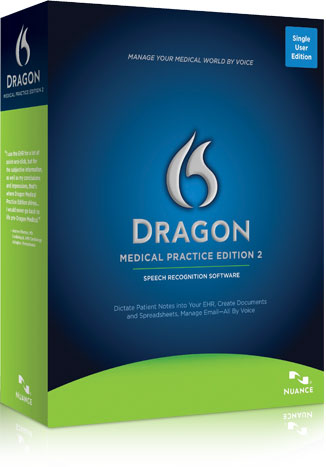 Features that make the difference:
More than 99% accurate out of the box
Over 90 medical specialty and subspecialty vocabularies
3x faster than typing
Regional accent support
Customizable macros
Hidden dialogue mode
Major Advantages of Dragon Medical Practice 2 Upgrade:
Runs in multiple processor cores on Windows 7, 8, 10 PCs, so significantly faster, often 2 or 4 times faster
15% more accurate, and almost reads your mind, compared to previous Dragon Medical Practice 1
Significantly smoother than previous versions
Click here to download the What's New (pdf)
What you can expect:
More efficient navigation
Complete voice control
Less time spent pointing and clicking
Quicker production of patient notes
More robust clinical records
Faster recognition speeds
A New Level of Customer Support
The key to maximizing your EHR with Dragon Medical Practice Edition 2 begins with proper installation, customization and training. We provide all three.

Upgrade from Dragon Medical Small Practice Edition 10 or higher, Dragon Medical 10 or higher, Dragon Medical Enterprise 10 or higher, Dragon Medical Practice Edition.
---
Includes