Providing a whole range of benefits to the busy transcriptionist, the software streamlines communications and allows you to organize recordings clearly and transparently. Together with a set of ergonomic accessories, SpeechExec Pro Transcription Set 7277 is the solution that sets the pace in today's fast-moving business world.
Philips 7277 Pro Executive Transcription Kit
Model #37503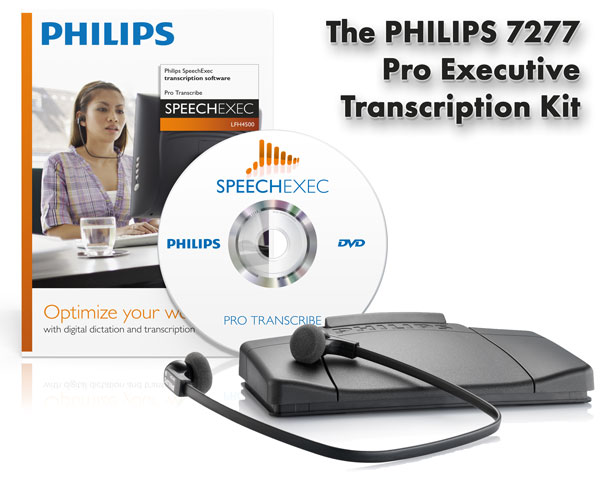 Call (866) 254-0714 to Get Your Custom Quote
System requirements (SpeechExec workflow software):
Processor: Pentium IV 1 GHz recommended
RAM memory: 1 GB (2 GB recommended)
Hard disk space: 100 MB for SpeechExec software, 850 MB (32 bit)/2 GB (64 bit) for Microsoft .NET Framework (Windows)
Headphone output or speakers
Operating system: Windows 10/8/7/Vista (32/64 bit), Windows XP (32 bit), Mac OS X 10.8/10.7
Free USB port
DVD-ROM drive
Graphics card: DirectX-compliant graphics card with hardware acceleration recommended
Sound device: Windows-compatible sound device
Package Includes:
Philips SpeechExec Pro Transcribe Software
Foot Control 210
Earphones 234
License
Installation Guide
USB Adapter (no Sound Card required)
Toll-Free technical Support.
2-year warranty
PLUS:
Exclusive HTH Engineering "Concierge" Turn-Key Tech Support and Free Unlimited Support Via GotoMeeting and/or telephone
Price: $349.00

Please allow 24 to 48 hours for your order to ship.