NEW!

World's most Versatile and Robust Transcription System
Windows 10™/ Windows 8 & 8.1™/Windows 7™/Windows Vista™ /
Windows 2000™ / Windows XP™ Compatible!
HTH Engineering, Inc.

is proud to present

Start-Stop®

OMNIVERSAL

Combining and exceeding the capabilities of the proven Start-Stop Universal (Audio)Transcription System and Start-Stop PowerPlay (Video) Transcription System that have been making industry waves since their introduction over a decade ago, Start-Stop® OMNlVERSAL provides a single solution with new powerful features.

New! "Start-Stop™ Encryption Transporter" let's you send 256 bit HIPAA encrypted audio/video to your Start-Stop OmniVersal!
See the power of Start-Stop OmniVersal in action!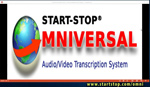 Click to View
In our latest online webinar we go over the latest features and how they can greatly enhance your transcribing of video and audio files.
The perfect tool for quick and efficient transcription of digitally created audio and video. The pedal system is easy to use and easy to set up and will work with almost any type of digital audio, DVD, CD, or video file. Advanced features include the Start-Stop Job Manager that allows you to easily organize and archive jobs, the ability to bookmark and label sections, and of course the variable speed and variable step function to suit your preferences.
Plus, like all of our Start-Stop products, Start-Stop® OMNlVERSAL is supported by our friendly, helpful, professional, and toll free technical support, a one year warranty, a 30 day money back guarantee, and free upgrades for as long as you own our product.
With Start-Stop® OMNIVERSAL comes a wide range of supported audio and video formats, and a focus on improved workflow and efficiency for researchers in various scentific disciplines, medical transcriptionists, court reporters, conference recording, legal transcription, educators, corporations, muscians, journalists, translators, and governmental uses.
Control the speed and playback of virtually any digital recording. Whether it's Audio, CDs, Digital Dictation, Hollywood, compressed, proprietary-burned DVDs, Video clips, streaming web videos, of conference recordings.
Easily pause, play, step-back, and fast-forward without taking your hands from the keys or your attention away. Take a look at the incredible capability of Start-Stop® Omni!:
Transcription Functions:
(User-assignable to any pedal) - Play, Play/Pause, Play/Pause/Backstep, Stop, Pause, Step Back, Step Forward, Rewind, Fast Forward, Insert Bookmark.
Operating Systems Supported:
Microsoft Windows 2000, Windows NT 4.0, Windows XP, Windows VISTA, Windows 7™ (32 and 64 bit CPUs and OS, all versions), Windows 8™ & 8.1 (all versions except Windows Tablet RT), Windows 10™ (all versions).
Pedal Types Supported:
Start-Stop USB 3-Pedal Units, Start-Stop 2-Pedal Units, Philips USB Pedals, Olympus RS-27 and RS-31 USB Pedals, Philips 2305 USB Hand-Control, DAC Wide Heavy Duty USB Pedals (waterproof and non-waterproof), and Infinity (USB and Serial).
Recommended Computer:
Any Windows-compatible PC with a sound card, Pentium Class, 1GHz or higher, 512 MB or more recommended.
Start-Stop® OmniVersal Demo Enhancing Voices with Equalizer and Speed Control Ben Carson Excerpt