Make your computer work for you.
Your computer can type the transcript as repeated by a human into the microphone, with 99% accuracy and only minor corrections needed.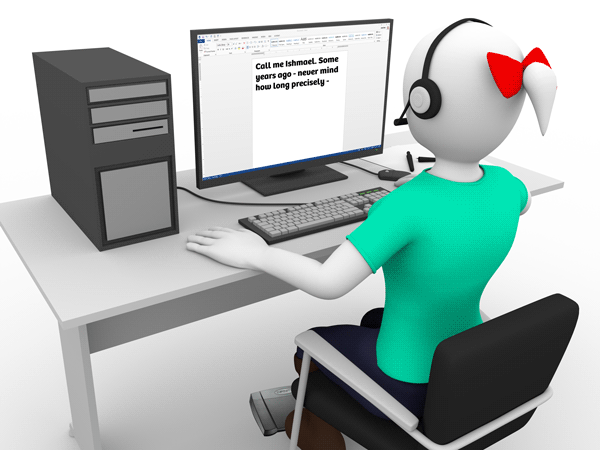 Re-Dictation:
Add Nuance® Dragon® Professional Individual v15 to your Conference Recording and Transcription Package: just type with your voice, repeating each phrase or sentence from the meeting into Dragon, instead of typing.
Twice as fast as typing!
*Note: Dragon will not transcribe directly from a meeting recording, but transcriptionists can use it as their personal typing aid to instantly type with up to 99% accuracy.
The Re-dictation Kit consists of Dragon Professional Individual 15 voice recognition program to turn speech into text, and the Andrea NC-185VM USB Noise Canceling On-Ear Stereo Headset.
Re-Dictation Kit Model #71034
Includes:
Dragon NaturallySpeaking Professional Individual 15 via digital delivery
Andrea NC-185 VM USB Noise Canceling PC Headset.
Free Setup and Free Technical Support.
Re-dictation vs. typing will increase speed of transcription by a factor of 2 or more, saving you from having to type everything, since you can speak 160wpm into Dragon. Just repeat in your own voice into your Dragon computer transcription kit what has been said on multi-voice recorded audio.
To assist in proofreading/editing of the transcript Dragon makes, the audio may be played under foot pedal control using transcription systems, such as Start Stop Universal, Start Stop OmniVersal, Olympus AS9000, or Philips LFH7277. In our experience, a one-hour audio will take about 8 hours to type by hand, but with the Re-dictation Kit this time will be reduced to as little as 2 hours.
---
Nuance Dragon Professional Individual v15
If you spend hours on paperwork, the all-new Dragon® Professional Individual v15 is the smartest and fastest way to work - all by voice. Create & transcribe documents, use simple voice commands to short-cut repetitive steps, like inserting your signature. Even customize the vocabulary to add your own terms. The new Dragon Professional Individual helps free up time in your schedule to contribute more to your work and bottom line.
Powered by Nuance's new next-generation "Deep Learning" speech engine with:
Ability to seamlessly sync with the Dragon Anywhere mobile dictation solution (Dragon Anywhere, Nuance's mobile dictation solution, is sold separately)
Advanced formatting voice commands
Powerful transcription capabilities
Support for Windows 10 touchscreen PCs
Added application support for WordPerfect X8 and Skype for Business
Many more innovative new features
Put next-generation speech technology to work
Leveraging the latest in Deep Learning technology, Dragon constantly learns and adapts to your unique voice and environmental variations—even while you're dictating—to deliver new levels of personalized accuracy and productivity. Robust transcription, powerful customization, and the ability to seamlessly sync with the Dragon Anywhere mobile dictation solution extend the benefits of speech recognition to meet your unique business needs wherever your job takes you.
Better performance
A fast, accurate dictation and transcription solution with powerful customization options can help you complete document creation tasks more efficiently using your voice so you can work faster and smarter.
Enjoy superior voice command and control in many popular applications
Dragon gives you robust voice command and control as well as Full Text Control (full voice driven editing and command capabilities) within many popular applications you use every day enabling you to create documents and zip through computer tasks in record time.
Faster than ever
Dragon not only lets you dictate up to 3x faster than typing, but it also allows you to make edits and format text faster than using your mouse and keyboard. Automatically format text to appear the way you want it to and easily switch between keyboard, mouse and voice so you can use the mode of input you prefer for any given task.
Sync with separate Dragon Anywhere mobile solution
Dragon Anywhere is a separate, cloud-based solution that provides continuous dictation capabilities, letting you create and edit documents of any length by voice directly on your iOS or Android device.
New next-generation speech technology
With over 2,000 voice and language scientists dedicated to innovating and developing new features, Dragon introduces "Deep Learning" technology and adaptation techniques that continuously adjust to your voice even if you have an accent or if you're in an environment where there are slight background noises.
Use your voice to dictate documents
Dragon not only lets you dictate up to three times faster than typing, but it also allows you to make edits and apply formatting using your voice with up to 99% accuracy. You can select text and apply formatting such as bold, underline, capitals and more, or just speak to make needed changes. Smart Format Rules automatically adapt to how you want abbreviations, dates, phone numbers, and more to appear, so you don't have to correct them every time.
Transcribe your recordings from audio files
Dragon supports Nuance-approved digital voice recorders and smart phones for advanced recording functionality and can automatically transcribe the audio files to text back at your PC. It leverages all the accuracy improvements gained from the state-of-the-art speech recognition engine for fewer post-corrections
---
Andrea NC185VM USB:
The Andrea NC185VM USB is a high fidelity stereo USB computer headset with a noise canceling microphone, excellent with Dragon.
Description:
When high quality audio is your top priority, look no further than the Andrea Communications NC-185VM USB Stereo Headset, offering unparalleled speech and sound clarity with the convenience of in-line volume and mute controls. The exclusive noise-canceling microphone, with a windsock that minimizes breath popping, has been awarded the coveted "6 Dragon" rating for speech accuracy by Nuance.
Product Features:
Proprietary noise-canceling microphone with windsock to minimize breath popping
Pro-flex wire microphone boom for perfect placement
40mm stereo speakers with deep bass sound deliver crystal clear audio
Convenient in-line volume and mute controls
Comfortable foam ear cushions
Reversible for left or right side usage
Stainless steel adjustable headband folds flat for storage
Extra long 8-foot shielded cable with external USB sound card and USB plug
Well-built and cost-effective
COMPATIBILITY
PC: Windows XP, Windows Vista, Windows 7, Windows 8, Windows 8.1, and Windows 10
Apple: Mac OS X 10.5 and higher
MacBook with USB-C ports require C-400 USB Type C Adapter for USB connectivity
Additional Information