The Philips LFH3510 SpeechMike Premium Desktop Microphone sets a higher standard for which all desktop computer dictation microphones must now compare themselves. Philips redesigned their industry leading computer dictation microphone taking into account user experience and needs. Like its brother the LFH3500, the Philips SpeechMike Premium LFH 3510 utilizes advanced technologies like the free-floating studio-grade microphone. This computer dictation microphone is also housed inside an improved grille with an integrated pop filter that helps remove popping and unwanted environmental sounds during use. The Philips SpeechMike Premium LFH3510's Slide-Switch feature is one that many users have become familiar with through the years of dictation. It allows you to record, stop, play, fast, rewind your dictations.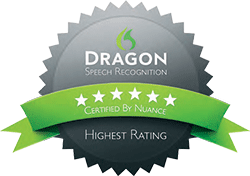 Ergonomically designed for the human hand, the Philips SpeechMike Premium makes every button available with quick making it possible for you to remain focused on the important task at hand whether that is your patients, your clients, your charts, or forms that must be filled out.
Philips's goal was to save you time and increase the speed of your workflow.
You will quickly discover that the Philips SpeechMike Premium is the best performance you will ever have with a desktop dictation microphone. Not only is it easy to use but it provides unmatched speech recognition results.
Nuance rated it 6 out of 6 Stars! The SpeechMike Premium has received the highest rating from the makers of Dragon NaturallySpeaking Premium and Dragon Medical Practice Edition 4. It is also compatible with Microsoft's newest operating system: Windows® 10. It's also compatible with Dragon Dictate Medical for Mac Version 5 for Mac Computers, up to and including Yosemite OS.
Features of the Philips SpeechMike Premium LFH 3510:
Perfect for any Professional who needs a polished time-saving dictation solution:
Medical Professionals
Technicians
Attorneys
HTH Engineering, Inc. supports your purchase of the LFH 3510 with friendly, expert "concierge" technical support via telephone and/or GotoMeeting™ for as long as you own the equipment.