Introducing the
NEW!

Start-Stop™ Encryption Transporter
Securely transmit sensitive audio and video data to
any transcriptionist using Start-Stop OmniVersal!
Windows 10™/ Windows 8 & 8.1™/Windows 7™/Windows Vista™/Windows 2000™/Windows XP™ Compatible!
With Start-Stop Encryption Transporter System you can:
Securely send and store audio and video files over the Internet (HIPAA compliant) with an inexpensive tool Store or send files using free internet cloud based storage like DropBox™ and Box.
"Fast Funnel" encrypts quickly with complete security (256 bit AES/HIPAA compliant).
Start-Stop OmniVersal Audio/Video/DVD Transcription System automatically decrypts the recordings, for playback under foot pedal control, with zero residue.

The

Start Stop Audio

and

Video File Encryption Transporter

System is perfect for transcription company owners, medical offices, doctors, and government-sensitive applications.

Strong local encryption ensures end-to-end security, for file storage and transmission.

Transcriptionists
Start-Stop™ Omniversal
256 Bit AES Encryption Standard
No residue on Transcriptionist's computers
End to End encryption, even over public networks
Easily change passwords
Plays every format (audio and video)
Decrypts
Plays back Encrypted Files
(No Residue)
Start-Stop™ Encryption Transporter
(256-BIT AES Encryption Standard)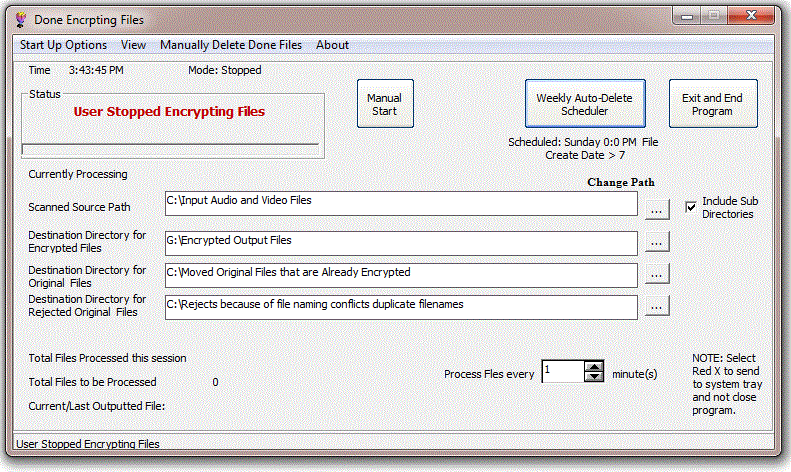 Operational Sequence for Encrypting Files
Omniversal Transcriptionist User adds Decryption Password(s) here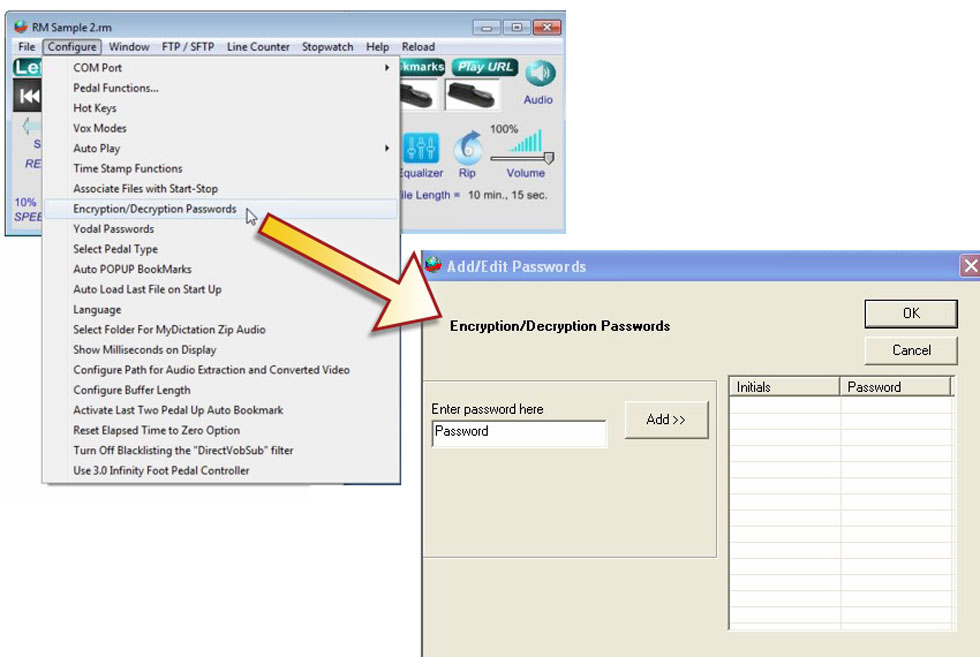 Playing or Transcribing Audio / Video Files
User plays and transcribes audio or video from Job Manager or by going to "File" then to "Open" to the folder where the ENC files are located – Done!
How to Order
Order online below or speak to one of our digital dictation and transcription specialists at (866) 254-0714. Orders placed before 3:30PM Eastern Time Monday-Friday will be shipped same-day. Orders $100 and over are eligible for Free UPS Ground Shipping.
#41497 Start-Stop Encryption Transporter

Includes:Start-Stop Encryption Transporter via Digital Delivery. The License Key will be emailed to you.