The complete transcriber
Windows® 11 / 10 / 8 /7 / XP Compatible!
The Start-Stop UNIVERSAL Transcription System is a professional grade PC-based, foot-pedal controlled transcriber that has been making industry waves since its introduction over a decade ago. Control the speed and playback of virtually any digital recording or dictation—pause, play, step-back, and fast-forward without taking your hands from the keys or your attention away from your word processor. The Start-Stop UNIVERSAL transcription system continues to be unique with its lifetime free upgrades guarantee, a wide range of supported audio formats, and a focus on improved workflow and efficiency for medical transcriptionists, court reporters, conference recording, legal transcription, educators, corporations, and government.
We are proud to announce Version 12 of Start-Stop UNIVERSAL Transcription System, with even more additional new features: Now Windows 11, Windows 10, Windows 8, Windows 7® supported, Start-Stop Yodal for BlackBerry®, myDictation iPhone® MP3, audio playback support of 11 multimedia new formats (RM, IVF, MTS, MPEG, MPG, VOB, MP4, F4V, MOV, WMV, FLV), new file Drag 'n Drop, SPX (Speex) support, and new standalone optional versions for use with Start-Stop Call-in System, Start-Stop Goldenear PRO 4x, and Start-Stop Superflow Continuous Recording System. Also we are including the Network Pro upgrade free with version 12. This networking add-on for Start-Stop UNIVERSAL makes work-sharing with other transcriptionists easy and efficient.
This is all in addition to supporting virtually every audio format in the industry (standard and proprietary, for example, WAV, MP3, WMA, DSS, VOX, VOC). Whatever you need to play and transcribe under foot pedal control, Start-Stop UNIVERSAL is the perfect multi-purpose transcription tool to help you get the job done.
Start-Stop UNIVERSAL transcription foot-pedal controlled software is compatible with Microsoft Windows 2000, Windows XP, Windows Vista, Windows 7 and Windows 8, Windows 8.1, Windows 10, Windows 11, are Supported.
Outstanding New Features Included with Version 12

Windows™ 11 Supported

as well as Windows 10, 8, 8.1, 7, Windows Vista, Windows XP, Windows 2000, and Windows™ 2003/2008 Server!

Constant-Pitch, Variable Speed (Tempo) Control

Slow playback speed to as little as 10%, or increase it by as much as 190%, without changing the pitch of the user's voice.

Multiple SAVE AS options for Any Playable format!

Anything you can play with the Start-Stop, you can save/convert to a standard format. (Save as .MP3, .WAV, or Truespeech™ WAV)

Support for Secure FTP (SFTP) as well as FTP for File Transfer

Now supports both SFTP as well as regular FTP. Automatically upload and download work directly into your computer (and display them using the Start-Stop Job Manager)

Enhanced Job Manager.

Add Notations to any dictation! Also new Priority and Duration columns.

EVEN MORE NEW FORMATS SUPPORTED.... (CLICK HERE TO SEE COMPLETE LIST)

Audio playback support of 14 multimedia video formats (including new Version 12 format support for AVI, RA (Real Audio), and MTS - New Sony DVF/MSV* Audio Support.

Enhanced Ease of Installation on Limited Rights PCs

-Works well with limited user rights computers.
- Silent install Version available for IT Deployment.

Optional Milliseconds Display of Elapsed Time/Remaining Time for high-accuracy audio files where fractions of a second count, the Start-Stop system is capable of displaying them.
Features
As the industry leader, Start-Stop UNIVERSAL transcription software supports more formats than any other transcriber.
Never download another Codec pack again. The Start-Stop UNIVERSAL supports DSS, WMA, MP3, iPhone® MP3 and dozens more, making the Start-Stop UNIVERSAL a true complete transcriber.
SST 12 supports most popular and many obscure audio formats. See the complete list.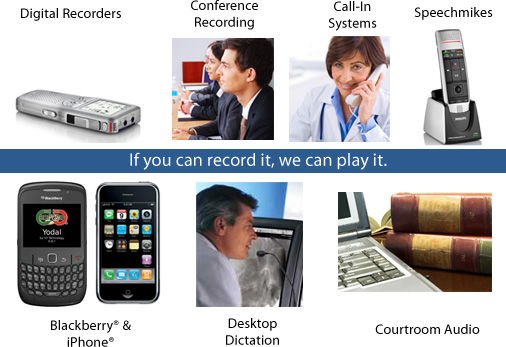 Play and transcribe dictation and recordings from a wide variety of equipment and sources.
Choose your own speed
Reduce playback rate by half or speed things up by 300%—the magic of digital.
Ultra Job Manager
The Start-Stop UNIVERSAL Transcription System is network enabled, allowing you to share, track, and archive jobs across the local network. This allows several transcriptionists to work on a pool of jobs without overlap. Automatic notification informs the transcriptionists that new dictation has been completed and is available for transcription.
Automatic Notification: The program notifies transcriptionists of new and incoming work as it is being recorded by the Call-In Recorder.
Work Pool Sharing: Several transcriptionists can share and track work without overlap, making this the perfect dictation/transcription system for small, medium or, large offices up to 300 authors.
Job Manager: Automatically sort dictation by author, job type, time, length, or priority.
Productivity Tracking: Automatically archive completed dictation while allowing a supervisor or transcriptionist the ability to track work accomplished and work remaining.
The Job Manager can be organized and queued with the help of complete demographic information: creation date, length, file, title, and job status.
Complete Control
Several pedal (and hand control) options, hotkeys, and mouse control allow you to use the Start-Stop UNIVERSAL in a way that is quick, efficient, and tailored to your needs. Define hotkeys and pedal controls quickly and easily.
Automatic Update Notification
Your Start-Stop Transcriber will always remain up to date and current with automatic upgrade notifications.
Built-in FTP Client
Upload files easily with the built-in FTP client without having to install or manage additional programs.
Ultra Play Technology
Sound files up to 20 hours long are loaded quickly, with minimal pause, so you lose less time operating your tools and more time doing the job.
SmartLine Counter and StopWatch
Easily track billable lines and hours with the built in stopwatch and line counter.
Automatic Notification
Have Start-Stop UNIVERSAL monitor your incoming job folder and it will alert you when new dictation is ready.
Customizable Display
Start-Stop UNIVERSAL will run in the background or "always on top" in full, reduced, and thin operating modes, allowing you to customize UNIVERSAL to your own style.