Financing Available
These financing services are available for your purchases: Faastrak Financing and PayPal Credit.
---
FINANCING AVAILABLE
Financing through YOUR COMPANY NAME connects you to the best lenders for your business needs.
Apply in less than 30 seconds!
APPLY NOW
New Equipment
LET'S SAY YOUR NEW EQUIPMENT COSTS $5,000
Payment
YOUR MONTHLY EQUIPMENT PAYMENT IS $200
Earnings
YOU EARN $3,500 A MONTH WHILE USING THE EQUIPMENT
Profits
SO YOU PROFIT $3,300 EVERY MONTH!
WHY FINANCE?
CREATE POSITIVE
CASH FLOW
Equipment leasing and financing is the most popular option to get a quicker return on your investment for your equipment order. Get your equipment now and pay for it over time allows you to immediately start making.
REDUCED
PAYMENTS
It can be difficult to pay for high cost equipment at one time. Your monthly payments are fixed, so your business can budget more effectively. Apply today to learn about your payment options!
TAX
DEDUCTIBLE
This is the greatest advantage of equipment leasing and financing. Section 179 allows leased business equipment to be 100% tax deductible!
CONSERVE
WORKING CAPITAL
Purchase the equipment you need to expand your business without forfeiting cash flow or financial stability. Equipment financing and leasing allows you to also keep your other lines of credit open for other business purchases.
YOU MAY QUALIFY IF YOU...
Just started your business

Have troubled credit

Have no cash to put down

Looking to expand your business

Have a bankruptcy on file

Have no business credit

Have tax liens
APPLY USING OUR SMART APPLICATION
With our smart application, you can get an instant credit decision. In 3 easy steps, we can get you approved and get you on your way to new equipment!
1. Fast Credit Approval
After Submission
2. Sign All Documents
Electronically
3. Prepare to Recieve Your
Leased Equipment
APPLY NOW
---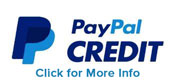 PayPal Credit allows you to finance purchases for your business using flexible payment plans as well. Click here to learn more.