Hands Free Dictation Solutions
The hands-free microphones and dictation products were originally designed for doctors, researchers, and pathologists in mind. However, we are constantly surprised by our customers in many different fields that have found them essential to their work.
Wireless dictation system includes microphone, foot pedal control, and an Olympus DS-5000 recorder.
$1729.00
Includes wireless Revolabs lapel microphone
Includes DS-7000 Digital Dictation Recorder
Includes waterproof, high-endurance 3-pedal footswitch for controlled recording
Optional one-button download to PC
A gooseneck microphone, USB pedal, and Olympus DS-5000 combine to create the perfect microscope dictation system.
$899.00
Includes GN-1 Gooseneck Microphone
Includes Olympus DS-5000 Digital Dictation Recorder
Includes 3-Pedal USB Footswitch
One touch downloading to PC
Turn your PC into a foot controlled, hands-free recording device.
For Windows 8/7/Vista/XP/2000/ME/98
$399.00
Includes Andrea Superbeam array microphone
Includes USB 3-pedal footswitch
Includes Start-Stop Hands Free Recording Software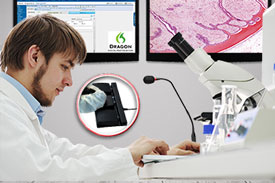 Use a heavy-duty foot pedal to send keystrokes and commands to Dragon Medical Software while doing hands-free voice recording in a Pathology or surgery environment!
For Windows 8/7/Vista/XP/2000/ME/98
$379.00-$499.99
3-pedal heavy duty WATERPROOF wide-spaced foot control with USB interface
Version 4.0 software on CD-ROM
GN-USB Gooseneck Microphone
User Manual
Lifetime Toll-Free Tech Support.
Wireless Microphones
Untether your dictation with these handsfree wireless microphones. You may also be interested in our available Speech Microphones by Philips, Olympus, and Nuance.
100% HTH Staff approved! This headset is designed for mobile and desktop use.
$179.99
Exceptional design
Lightweight headset at only 0.6 ounces
Recharges with included docking station
7 plus hours of talk time
Bluetooth Wireless connects up to 66 feet away
RecordACall is a digital recording program for Windows®. With it you can record, store, search and even send your recording using the simple user interface.
For Windows based PCs
$59.00
Included a key-sized license USB dongle that gives you the freedom to use it on any PC with a free USB port.
Compatible with adapters like the LRX-35 Telephone Recording Adapter, the LRX-40 USB Telephone Recording Adapter, and the CM-1000 Conference Microphone
Easy to use software interface.
Record, store, search, and send your recordings.
Hands-Free Dictation