SpeechExec Pro Transcription Set 7277 is a powerful and user-friendly digital transcription system by Philips that turns your computer into a highly sophisticated transcription machine.
Providing a whole range of benefits to the busy transcriptionist, the software streamlines communications and allows you to organize recordings clearly and transparently. Together with a set of ergonomic accessories, SpeechExec Pro Transcription Set 7277 is the solution that sets the pace in today's fast-moving business world.
Key Features at a glance:
Ready out of the box for Speech Recognition Software. So it seamlessly integrates with Nuance's Dragon NaturallySpeaking Software.
A visual workflow management interface enables priority documents to be transcribed in a prioritized order.
Powerful sort/filter options for all dictations.
All relevant dictation data is available during transcription. Such as the length of the dictation, the author name, the key words and the assigned priority status.
The SpeechExec Pro Software efficiently organizes and helps the transcriber plan out workloads.
Ergonomic Foot Control can be used to operate transcription functions.
Lightweight and comfortable earphones reduce physical stress and provide Excellent DSS sound quality.
Software allows you to automatically transfer dictation files via network, e-mail, and/or using FTP (File Transfer Protocol).
"New job" alert feature informs you when new dictations come in.
---
HTH Engineering, Inc. supports your purchase of the Speechexec Pro Transcription Set 7277 transcription system from Philips with friendly, expert "concierge" technical support via telephone and/or GotoMeeting™ for as long as you own the equipment.
---
Philips 7277 Pro Executive Transcription Kit
Ergonomic foot pedal for convenient playback control
Sitting at a desk for long hours can itself be a strain on your body. So Philips designed their pedal to fit your body. Their ergonomic foot pedal is made for hands-free control of all transcription and playback functions. The slim, ergonomic design guarantees operation with minimal physical strain.
Lightweight stereo headphones for enhanced wearing comfort
We all know that wearing headphones for an extended period gets old real quick. But the Philips headphones are lightweight and are the under-the-chin-style stereo headphones which means they virtually disappear as you are wearing them. They are designed to deliver wonderful sound quality and come with soft ear cushions for enhanced wearing comfort.
SpeechExec workflow software
The SpeechExec Pro software helps you organize the workflow of dictation files and resulting documents between you and transcriptionist.
The software gives you the power to monitor the status of your work simply and efficiently.
Priority setting and notifications for urgent recordings
The Pro Excutive Transcription Software includes a priority-setting option so that urgent recordings can be prioritized.
This feature helps to guarantee that important dictation files will be identified at the glance of your transcriptionist so that they get processed and delivered first.
Individual sort and filter options for easy file organization
We all need a powerful search filter, the SpeechExec Pro Transcribe enables users to find specific dictation files or filter their dictation list by creating definable criteria.
Furthermore, the easy-to-use list-sorting options for single and multiple dictations gives a quick overview of all dictation files.
Geared for Dragon NaturallySpeaking speech-recognition software
Keeping things simple makes life pleasant.
The seamless integration of Philips dictation recording devices and the direct interface to Dragon NaturallySpeaking Professional speech recognition software means excellent audio quality, high recognition accuracy, and easy hardware administration for you.
---
How to Order
Order online or speak to one of our digital dictation and transcription specialists at (866) 254-0714. Orders placed before 3:30PM Eastern Time Monday-Friday will be shipped same-day. Orders $100 and over are eligible for Free UPS Ground Shipping.
Additional Information
Philips 7277 Pro Executive Transcription Kit
Model #37503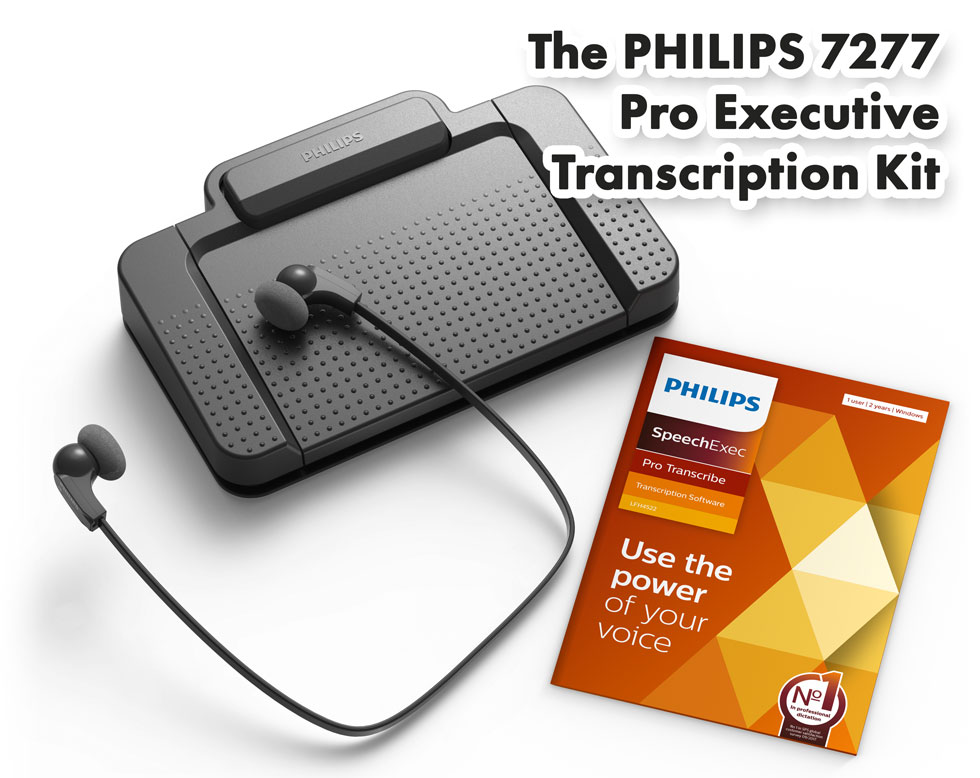 Click to Enlarge
Call
(866) 254-0714

to Get Your Custom Quote
System requirements (SpeechExec workflow software):
Processor: Intel dual core or equivalent AMD processor, 1 GHz or faster processor
RAM memory: 2 GB (32 bit)/4 GB (64 bit)
Hard disk space: 100 MB for SpeechExec software, 4.5 GB for Microsoft .NET Framework
Headphone output or speakers
Operating system: Windows 10 Pro/Enterprise (64 bit), Windows 8.1/7 Pro/Enterprise (32/64 bit), Windows Server 2012 (64 bit), Windows Server 2008 R2 (32/64 bit), macOS 10.13/10.12 (Mac functionality may be limited)
Free USB port
DVD-ROM drive
Graphics card: DirectX-compliant graphics card with hardware acceleration recommended
Sound device: Windows-compatible sound device
Package Includes:
Philips SpeechExec Pro Transcribe Software
Foot Control 210
Earphones 234
2 Year subscription of V.11 software
Installation Guide
USB Adapter (no Sound Card required)
Toll-Free technical Support.
2-year warranty
PLUS:
Exclusive HTH Engineering "Concierge" Turn-Key Tech Support and Free Unlimited Support Via GotoMeeting and/or telephone
Price: $449.00
Please allow 24 to 48 hours for your order to ship.
Technical Specifications
Foot Control

Connectivity: USB plug

Product dimensions: 198 mm × 54 mm × 170 mm/7.8" × 2.1" × 6.7

Weight: 650 g/23 oz

Headphone

Style: under chin
Cable connection: one-sided
Cable length: 3.0 m/10 ft
Connector: 3.5 mm, stereo, right angled
Acoustic system: open
Magnet type: neodymium
Diaphragm: PET dome
Voice coil: copper
Impedance: 2 × 32 Ohm
Maximum power input: 2 × 10 mW
Sensitivity: 103 dB
Speaker diameter: 14 mm/0.6"
Sound quality: optimized for voice playback
Connector finish: gold-plated
Weight: 0.053 kg/0.12 lb

Green Specifications

Compliant to 2002/95/EC (RoHS)
Lead-free soldered product

Product dimensions
(W × D × H):
160 mm × 150 mm × 18 mm/6.3" × 5.9" × 0.7"
| | |
| --- | --- |
| Processor | Intel dual core or equivalent AMD processor, 1 GHz or faster processor |
| RAM: | 2 GB (32 bit)/4 GB (64 bit |
| Hard-disk space: | 100 MB for SpeechExec software, 4.5 GB for Microsoft .NET Framework |
| Operating system: | Windows 10 Pro/Enterprise (64 bit), Windows 8.1/7 Pro/Enterprise (32/64 bit), Windows Server 2012 (64 bit), Windows Server 2008 R2 (32/64 bit), macOS 10.13/10.12 (Mac functionality may be limited |
| Graphics: | DirectX-compliant graphics card with hardware acceleration recommended |
| Sound: | Windows-compatible sound device |
| Browser: | Internet Explorer 9 or higher, or the current version of Chrome or Firefox |
| | |
| --- | --- |
| Supported speech recognition software: | Nuance Dragon Professional 13/14/15 Individual/Group, Nuance Dragon Legal 13/14/15, Dragon Medical Practice Edition 3, Nuance Dragon SDK Client Edition 14 |
| Processor: | Intel dual core or equivalent AMD processor, 2.2 GHz or faster processor |
| RAM: | 4 GB (32 bit)/8 GB (64 bit) |
| Hard-disk space: | 8 GB |
| Operating system: | Windows 10 Pro/Enterprise (64 bit), Windows 8.1/7 Pro/Enterprise (32/64 bit), Windows Server 2012 (64 bit), Windows Server 2008 R2 (32/64 bit), macOS 10.13/10.12 (Mac functionality may be limited |