Start-Stop PUMA typical use diagram.
Click to enlarge.
The Start-Stop™ Puma Secure Portable WIRELESS 8-Channel Conference Recording/Transcription System is the perfect wireless solution for courtroom recording, depositions, hearings, boardroom meetings, city council meetings, seminars, expert panels, focus groups, and more. The 8-channel recording and transcription system provides you with everything you need in a small portable package for recording important meetings and conferences in large rooms without the need to run hundreds of feet of power cords and microphone cords. What's more is the technology is smart enough to provide secure connections between microphones that will not get signal interference - so a dreaded phone conversation accidently hoping on to the channel will not occur.
Because it is highly portable, the 8-channel recording and transcription system can be easily carried to any venue, inside and out.
Wireless Microphones for Roland R44 conference recorders are ultra-reliable, clear, professional gear, impervious to interference, encrypted for security, and especially effective in critical environments. They are the best conferencing technology available today. The advantages for these microphones: No wires means total flexibility in placement for any meeting.
The conference mikes will pick up every utterance, every syllable of what's being said at the table, with ability to separate conversations, since separate tracks are being recorded by the Roland R44.
Start-Stop Puma Features:
Portable, airline transportable, set it up in 5 minutes for any meeting
Crystal Clear, every word captured
Efficient, wireless convenience
Easy to use, one-button Recording
Wireless Microphone for Public/Audience or pass-around
Carrying/Storage cases included
Lapel Clip for Projector/Presenter (wearable)
Wireless PA allows audience area to hear board members clearly
Optional Add-on of Bluetooth 2 way interface allows call-in members to participate and hear every board member via the 8 wireless microphones, with their voice projected via the Wireless PA
Optional Dragon Re-dictation Package speeds up transcript preparation by a factor of 2 or more.
The system unpacks and assembles in 5 minutes - plug in power and place the wireless secure microphones anywhere in the room - Press "Record" and the meeting is live and conferenced.
This state-of-the-art wireless recording system was custom designed to be used in a large room. It features the ability to record up to four channels in crystal clear fidelity, is quick to set up and tear down.
The Start-Stop Digital 4-Channel Wireless Courtroom Recording and Transcription System consists of the Roland™ R44 Four-Channel Solid State Recorder, the Revolabs Executive HD™ Wireless Multi-channel Microphone System, and the Start-Stop® 4-Channel Transcription System.
No PC is required during the recording session. This combination of equipment will allow clear, accurate seminars and conferences transcription of up to 4 simultaneous channels.
Description of Major Components:
Roland R44 Four-Channel Solid State Recorder
The Roland R-44 Four Channel Recorder comprises a state-of-the art, reliable, extremely high quality recording system that will capture every whisper or voice, even in less than optimal environments.
Features like real-time confidence monitoring via headphones and "live" VU bar graphs, individual gain and monitoring controls, ability to cycle through each channel to hear the microphone you want, AC and battery-backup operation, and built-in microphones make this the best, most reliable unit available today for courtroom recording.
The recordings can be quickly downloaded to any Windows PC via the SD Memory Card, as WAV files (the included 32 GB SD memory card will record 377 minutes of CD-Quality audio x 4 channels).
The recorded audio files from the Roland system, consisting of four WAV files (Windows playable) audio files, can be saved to your PC, and converted to MP3 for IPODs, or burned to a low-cost CD (Data or Audio compact disc) for archiving and/or distribution.
Comes with AC Wall adaptor, for continuous recording, with internal battery backup in case power is lost in the building.
Revolabs Executive HD™ 8-channel Secure Wireless Conference Microphone System
The Revolabs base unit system will capture crystal-clear sound from each participant in the conference room over a 100 foot range. The microphones transmit a digital 128-bit encrypted signal on an exclusive "DECT" frequency band allocated by the FCC, and is impervious to interference, cell phones, and wireless networks. It's totally secure so no one outside the room can capture or listen to the conversation. Quality and clarity are stunning, with no fading or breakup under any conditions.
Microphones and charging stand can be located in the boardroom area vicinity or with the main unit.
HTH Mixing System with Optional Bluetooth Cell Phone Interface
Mixes all 8 wireless microphone feeds from Revolabs base unit down to 4 individual feeds for the Roland 4 Channel solid State digital recorder
Communicates wirelessly with the Wireless PA (public address amplifier)
Provides stereo output feed for External Public address system or mixer Input (e.g. hotel)
Interfaces to user-supplied Bluetooth enabled cell phone, to allow board members to hear parties on the other end of the telephone via the Wireless PA, and to allow the Board member's voices to be heard collectively (via 8 separate microphones) to those who called in.
Heavy Duty Carrying Case for all equipment except PA Speaker
Vanguard Supreme Series, extra large, with foam inserts
Waterproof (up to a depth of 16.5 feet/5 meters), dustproof and air tight
Ideal for airline travel with an automatic pressure equalization valve
Built to withstand the most extreme temperatures (-40° to 203° F)
Incredibly strong and rugged (supports up to 265 pounds of exterior weight)
Steel reinforced padlock receptacles and quick release latches
Customizable hexagon-shaped die cut foam
Durable wheels and a retractable handle to effortlessly transport heavy gear
Outside dimensions: 24.75 x 20.5 x 9.5". Inside dimensions: 22 x 17.75 x 7.875". Weight: 22.93 pounds
Start-Stop 4-Channel Transcription System
Click here for more details & specifications
The unique Start-Stop 4-Channel Transcriber, compatible with the Roland R44, provides professional grade four-channel transcription based on our Start-Stop UNIVERSAL Transcriber, a trusted name in digital transcription. Listen to any combination of channels: single channel, multiple channels, or all channels while controlling the recording with the foot pedal. This setup is familiar for professional transcriptionists and is easy to learn for beginners.
Wireless P.A. System with Microphone for Audience with Carrying Case
This is an Bluetooth Wireless P.A. System. The Mike can be passed around the audience and everyone can hear what's clearly said by both the board members, as well as other Audience Members, without the person having to shout or speak loudly.
Their voice will be recorded on the same system,using a special mixer box that feeds into one of the 4 recorder channels of the Roland R-44.
Speaker is Active Powered, with self-contained battery for totally portable operation. Also includes 120 VAC power source, for continuous power and battery charging when used in portable mode. Easily removes from Stand for storage. Fast setup and break-down.
Built-in UHF system
2-way speaker enclosure with 6-inch woofer
1-inch high frequency driver
Lightweight, Class D amplifier produces 40 watts of power
Runs on AC Power or Rechargeable Battery
Heavy Duty Stand with adjustable height
Optional Accessories
Transcriptionist REDICTATION Feature ($550 extra – OPTIONAL)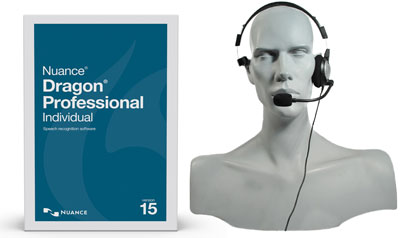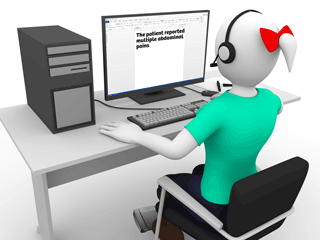 Re-dictation Option:
Add Nuance® Dragon® Professional Individual v15 to your Conference Recording and Transcription Package just type with your voice, repeating each phrase or sentence from the meeting into Dragon, instead of typing.
Twice as fast as typing!
*Note: Dragon will not transcribe directly from a meeting recording, but the transcriptionist can use it as their personal typing aide to instantly type with up to 99% accuracy.
Here at StarStop.com, our goal is to provide you with reliable, quality equipment, and back it with quality technical advice and support: before, during, and after the sale.
How to Order
Order online by selecting your package option below or speak to one of our digital dictation and transcription specialists at (866) 254-0714. Because of the nature of the how each system is customized to each user's specific needs, it is best if you call and speak with our system engineer for a specific quote designed around your unique requirements.
Start-Stop™ PUMA Secure Portable WIRELESS 8-Channel Conference Recording/Transcription System - Model #77420
Includes:
Qty 1 x Roland R44 Four-Channel, Solid State Recorder.
Qty 1 x Start-Stop 4-Channel Transcriber.
Qty 1 x Revolabs Executive HD™ 4-Channel Secure Wireless Base Station with separate Microphone Charging Base.
Qty 8 x Revolabs HD™ Tabletop OmniDirectional or Unidirectional Wireless Microphones and/or with lapel clips
1 x 32 GB SD Memory Card (6 hour recording time per card).
Heavy Duty Interconnecting Cable Assemblies.
Wireless PA system with handheld microphone, stand, and Portable PA amplifier, and Carrying Case
HTH Engineering Mixer Assembly for WPA-2 connection to Roland R44, Custom Engineering
Large Shock/Water resistant Carrying Case with Custom Foam Cutouts
Lifetime free software upgrades, Start Stop 4-Channel Transcriber
One Year warranty on hardware.
Unlimited Support and Concierge Setup via GotoMeeting™.
Free UPS Ground Shipping.
Windows 7, 8 and 10™ Supported