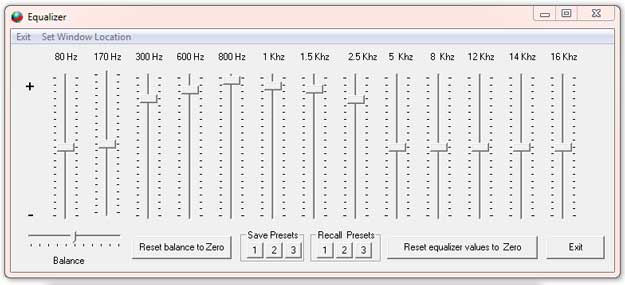 Multi-Band Frequency Equalizer
Pull voices out of the noise
Improves clarity when the voices are muffled or faint
Clarify and improve audio quality for difficult recordings
Reduces microphone hiss or hum, air conditioning rumble, lawnmowers, motors, and high-frequency sounds for easier transcription
3 Presets/Recalls allow saving settings for different situations
New! Noise Removal Tool!
"The Noise Removal feature in the New OmniVersal is the most dramatic improvement in noise reduction I've ever come across.
"We deal with audio and video recordings from Law Enforcement, and this new feature makes that horrible recordings do-able."
Mickey Segal, President, American High-Tech Transcription
New! Boost Amplify Tool!
New Boost Amplify feature gives you the ability to digitally boost the volume of recordings by up to 1000% when transcribing any audio or video file. Perfect for situations where the original recording was made at a very low level, or audio or voices were very faint.
If you've already turned up your normal PC volume and other settings to "maximum", the new Boost Amplify will allow you to go up to 10 times further, boosting your PC's playback volume level while transcribing under foot pedal control. Use this new feature with care when using levels higher than 100%, since boosting up to 1000% can make the sound levels quite high, if desired.
New Features June 1, 2021!
Frame Mode
Now you can advance or rewind a single video frame at a time under foot pedal control and decide how many frames you want to move with each press of your foot pedal. Click for more information.
Frame Mode Time Stamping
Automatically insert Time Stamps with Frame Number included into any transcribed video document, at periodic intervals, or on-demand using the time stamp hotkey or foot pedal as a trigger. Click here for more information.
Support for Taser™ Axon Body Cam Video
Play back and transcribe police and law enforcement Body Cam videos (now including Taser's Axon Body Cams / Axon Trial Offer) under foot pedal control, with voice enhancement, background noise reduction, frame-by-frame advance/rewind and timestamping.
Since Taser™ (Axon) is now giving away free body cams to police officers (Taser rebrands as Axon and offers free body cameras to any police department), you can now transcribe the police videos from these devices as of Version 2.0.31 of Start-Stop OmniVersal Audio/Video/DVD Transcription System, with slow motion control, frame by frame movement, voice enhancement, and background noise removal from police videos.
Our video and audio transcription software system also allows forensic removal of interfering sounds (such as a motor, high-pitched sounds, and street noise) for effectively controlling playback under foot pedal control of the officer's video footage. Police departments and law enforcement groups can send individual Taser body camera video links (from Evidence.com) to share with an off-site or on-site transcriptionist, and with Start-Stop OmniVersal you can then securely transcribe law-enforcement video from body cameras.
---
Constant Pitch Speed Control
For Audio and Video Playback
Slow down pronunciation of words and actions
without distorting Voice pitch
Adjust playback speed in 1% Increments
from 10%-190% of normal
Adjust Brightness, Contrast,
Hue and Saturation for DVDs.

Control Audio Files with Precision
Control Audio files the way you want to control them.
Instantly split long files into manageable segments and even overlap segments. With Start-Stop® OMNIVERSAL you have full control of segments length, range, and quality.
Intuitive Graphic Interface on Main Screen
Adjustable Video Window
Video Window Pops up when playing videos or DVDs. Window is resize-able to any size, and can be set to be "on top" of your favorite word processor so that you position it to see and hear what's being said while typing into your document.
Free Your Hands
Foot Pedal control speed the transcription process by giving immediate control of playback and freeing your hands to type.
Interview Silence Detection for Audio and Video
("Voice Tag")
Voice Tagging:
Instantly find where people are talking, instead of listening to entire recording. Automatically bookmarks an unlimited number of "Start of Voice" and "Start of Silence" points in a recording with exact times.
Easy to use:
Set the silence threshold, zoom/pan controls for time-line and amplitude.
Main Program Interface
The main screen can be shown in the foreground (on top) or in the background while typing into your favorite Word processor. It can also be turned into a skinny tool-bar that sits in the corner of your word processor so you can see status progress while typing.
Hover your mouse over the Main Screen graphic below for info on the Time Functions, Jobs Manager, BookMarks, URL Player, Audio Mixer Control, Real Time Positioning Bar, Speed and Tempo Controller, Sound Magnifier, File Splitter, Equalizer, and Rip Function.
Real-Time Positioning Slider
Instantly slide to any location in the audio or video by dragging the slider.
Speed/Tempo Control
Slow down or speed up audio and video from 10% to 190% of normal without altering pitch.
Instant Sound Magnifier
Automatically repeat the last backspaced amount (what you just missed) at 70% or normal speed.
Split Audio File
Split any audio file instantly at its current position into smaller MP3 or WAV segments.
Voice Tagging
Automatically find and bookmark where the starting points of voices and where the areas of silence are heard in your file.
Enhanced Job Manager
The Jobs feature allows for job flow control and greater efficiency.