Digital Dictation Recorders
Digital Dictation Recorders are especially well-suited for physicians, attorneys, investigators, and business users where it's a requirement to accurately construct sentences and paragraphs as you go, for later transcription. If you make a mistake, merely rewind, and play forward to that point, then hit Record and continue using your digital dictation device!
A true "dictation" recorder lets you listen to your digital dictation, rewind and replay it, and make any changes to it as you go ("on the fly editing"). With a digital recorder, you can insert a new sentence in the middle of an old one, overwrite from a certain point onward, or go back to a dictation created earlier in the day and modify or append to it. Digital dictation recorders are perfect for dictating correspondence, reports, observations, or any type of dictation needs. ("Conference" recorders on the other hand, or consumer "note takers" that you see in local stores, are intended to be left in record mode for the entire time, and don't allow making changes on the fly).
Olympus Dictation Recorders
The Olympus line of digital dictation devices has long been an industry leader and one of the most popular choices for many professionals. Long battery life, durability, and outstanding features make their line of recorders a solid everyday tool inside and outside the office. Easy integration with Nuance's professional Dragon NaturallySpeaking software packages is an added bonus.
Professional Line: With Automatic Emailing, Encryption, and Dragon Integration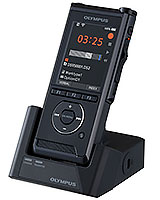 Olympus's New Flagship dictation recorder, ideal for professionals on the move.
$529.99
World's most advanced active phase noise-canceling microphone: clearer voice pickup in the most challenging of environments like subways, malls, or noisy offices.
Docking/recharging station also connects directly to your LAN
Software 256bit file encryption and device password - meets HIPAA requirements
Easy and efficient slide switch control
Includes 2GB microSD card and SD expansion slot
Includes Latest Release 7 Olympus ODMS software
Tough as nails and has a 40% larger LCD over the DS-7000
Olympus's tough work-horse dictation recorder, ideal for professionals.
$399.99
The Olympus DS-9000 digital voice recorder features the world's most advanced active phase noise-canceling microphone available
Multi-Use: The professional grade microphone means you can use the same unit for dictation and conference recording,
Software 256bit file encryption and device password - meets HIPAA requirements
Enhanced usability
Complete "integration-ready-tested" and works perfectly with Nuance Dragon speech recognition software
Includes Latest Release 7 Olympus ODMS software
Consumer Model: Downloads Files to PC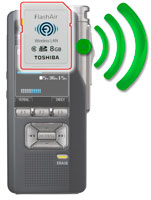 Enables you to use your DS-7000 Hand-held Dictation Recorder anywhere, and send dictation back to the Office using your iPhone or Android device!
$199.00
Works with:
iPhone: (4), (4S), (5), (5c), (5s), (6), (6 Plus)
iOS version 5.0 or later (This includes the latest addition of iOS 8.0)
Android OS version 2.2 or later
Includes: One year subscription for Olympus Dictation App for Apple iOS and Google Android operating system, unlimited free technical support.
Click through for a

FULL LINE

of Olympus Accessory Options!
Philips Dictation Recorders
Philips continues its long tradition of excellent design, industry-standard compatibility, and functionality in the field of audio recording and dictation. The DPM 9600 was the first HIPAA compliant dictation recorder available and the only dictation recorder with on-board file encryption. The DPM 8000 and DPM 7000 digital dictation devices are HIPAA compliant (with the option to encrypt audio files). The DPM 6000 family is a consumer version.
Professional Line: With Automatic Emailing, Encryption, and Dragon Integration
Philips has completely redesigned their industry leading Pocket Memo with new DPM 8000.
$499.00
Total compatibility—connections: high-speed USB 2.0, file type (DSS), memory (SD card), microphone (3.5mm), and long lasting Li-ion rechargeable battery
Includes docking/recharging station
Stainless Steel Ergonomic Construction
Wear-free Slide-switch control
Real time Onboard file encryption and device password—complete HIPAA compliance
Includes SpeechExec Pro software
The DPM 7000 Pocket Memo is a durable and a technologically advanced recorder that can keep pace with your demanding workflow.
$399.00
Two microphones for superior stereo audio recordings
Natural Slide-Switch for professional recording control
Robust stainless steel casing for extra durability
SpeechExec workflow software for efficient data management
Large color display and intuitive user interface for easy, convenient operation
High recording quality in DSS and MP3 format
Designed to easily transfer your recordings to your transcriptionist.
Price $349.99
No user configuration or training required.
The ACC8160 Wireless LAN adapter give you the ability to directly upload a file over WiFi.
Automatic firmware updating for dictation recorders.
Wireless security features and FTPS support for secure file transfer.
Dock your DPM8000, DPM7000, or older LFH9600 series recorders in their cradles and the Philips WLAN adapter will instantly send your files from the dictation recorder to your transcriptionist.
Designed for professionals
Philips SpeechLive Service.
Cloud Based Dictation/Transcription Service.
All your dictations always where you are
Your personal assistant in the cloud
Works across multiple devices
SpeechLive works seamlessly with the Philips dictation recorder for Smartphones, allowing you to create one complete workflow
Consumer Model: Downloads Files to PC
The recorder designed for the average consumer.
Price $279.99
Two microphones for superior stereo audio recordings
Convenient push-button for professional recording control
Robust stainless steel casing for extra durability
SpeechExec workflow software for efficient data management
Large color display and intuitive user interface for easy, convenient operation
Consumer Model - Records in DS2 only
This recorder is designed for the economy-minded consumer
The Philips SpeechExec Enterprise Dictation Solution:
Click for More Info on the Philips SpeechExec Enterprise
Dictation Recorders