Digital Dictation Recorders
Digital Dictation Recorders are especially well-suited for physicians, attorneys, investigators, and business users where it's a requirement to accurately construct sentences and paragraphs as you go, for later transcription. If you make a mistake, merely rewind, and play forward to that point, then hit Record and continue using your digital dictation device!
A true "dictation" recorder lets you listen to what you dictated, rewind and replay it, and make any changes to it as you go ("on the fly editing"). You can insert a new sentence in the middle of an old one, overwrite from a certain point onward, or go back to a dictation created earlier in the day and modify or append to it. Digital dictation recorders are perfect for dictating correspondence, reports, observations, or any type of dictation needs. ("Conference" recorders on the other hand, or consumer "note takers" that you see in local stores, are intended to be left in record mode for the entire time, and don't allow making changes on the fly).

Olympus Dictation Recorders
The Olympus line of digital dictation devices has long been an industry leader and one of the most popular choices for many professionals. Long battery life, durability, and outstanding features make their line of recorders a solid everyday tool inside and outside the office. Easy integration with Nuance's professional Dragon NaturallySpeaking software packages is an added bonus.
Professional Line: With Automatic Emailing, Encryption, and Dragon Integration
Consumer Model: Downloads Files to PC
Click through for a

FULL LINE

of Olympus Accessory Options!

Philips Dictation Recorders
Philips continues its long tradition of excellent design, industry-standard compatibility, and functionality in the field of audio recording and dictation. The DPM 9600 was the first HIPAA compliant dictation recorder available and the only dictation recorder with on-board file encryption. The DPM 8000 and DPM 7000 are HIPAA compliant (with the option to encrypt audio files) dictation recorders. The DPM 6000 family is a consumer version.
Professional Line: With Automatic Emailing, Encryption, and Dragon Integration
Consumer Model: Downloads Files to PC
The Philips SpeechExec Enterprise Dictation Solution: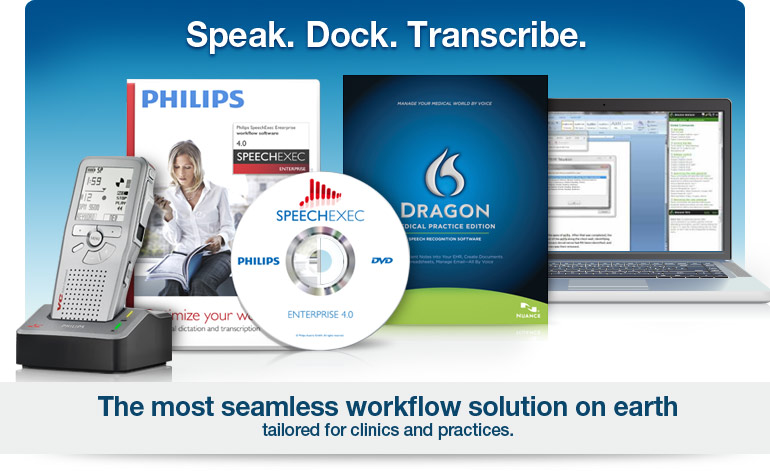 Click for More Info on the Philips SpeechExec Enterprise
Dictation Recorders