The Complete Conference Recording & Transcription System!
This digital conference recording kit is designed for small to medium size conference rooms. Our conference audio recording equipment is highly portable and perfect for single-table boardroom meetings and/or small hearings/deposition rooms where there are typically up to 10 people.
This low-cost turn-key recording and transcription kit utilizes the Olympus DM720, the CM-1000 Conference Mic Kit (2 or 4 mics depending on your model choice), and powerful Start-Stop Universal Transcription System.
Continuous power is important to any meeting audio recording equipment system, and with this kit the AC Adapter can be used to power the recorder, or the internal batteries will provide you with 26+ hours of continuous battery usage. It will revert to batteries if the power interrupted or lost in the room, so even if the lights go out, your digital conference recording can continue.
CM-1000s microphones reject wall and ceiling echoes (high angle sound reflections) to maximize pickup of participants. These mics can be placed up to 16 feet away from each other, and with the included 20-foot extension cord, the operator just has to hit the "RECORD" button - and you're guaranteed to capture every utterance and every syllable in the room.
The industry proved Start-Stop UNIVERSAL Transcription System maintains true "LEFT-RIGHT" ear/stereo separation during playback and transcription, so you can separate out conversations if someone is carrying on a sidebar conversation or several people speak at once.
Capture and transcribe every word with clarity and confidence
Set up our conference recording equipment in minutes in any environment.
No Computer needed to make the recording.
Quickly and Accurately transcribe your recordings with ease from home or office using the included Start-Stop UNIVERSAL Transcription software for Windows 10, 8 & 8.1, 7, XP, or Vista.
This is a turn-key solution for recording, transcribing, and archiving conference room, boardroom, hearings, or deposition meetings!
Features
High Quality Sound Recording in Conference room Settings
You won't miss a word in your conference and meeting sessions. The DM720 offers superb recording to a removable SD card. Should power fail the battery in the DM720 will ensure you don't miss a word. It comes with a Ni-MH rechargeable battery, carrying case, strap, USB cable, and the Olympus Sonority software.
Utilize up to 4 specially designed microphones
The CM-1000 microphones are specially designed to record in conference room and business meeting room environments where acoustics can be difficult.
Designed with Portability in Mind
Our engineers designed these conference audio recording equipment with portability and ease of setup in mind. No heavy equipment that weighs you down, so it easily travels with you. And set up is simple and quick. You can just as easily set this meeting audio recording equipment system up to be a permanent feature to any room.
Industry Proven Transcription System
The Start-Stop Universal System is an industry leader in transcription. Our software and pedal system allows for quick transcription after your conference meeting. Simply load your conference meeting recording equipment into our software and you can control playback with the included pedal so that you don't miss a word. Supports the latest version of Windows!
The Start-Stop UNIVERSAL Transcription System
A key part of the Start-Stop Low-Cost Conference Recording System is the powerful, professional grade, PC-based, foot-pedal controlled transcriber: the Start-Stop UNIVERSAL Transcription System. With it, you can easily control the playback and speed of the recordings you capture with the Olympus DM720 recorder and mics - pause, play, step-back, and fast-forward without taking your hands away from your keyboard and word processor. The Start-Stop UNIVERSAL continues to be unique in the industry with its lifetime free upgrades guarantee. It also supports a wide range of audio formats, and a focuses on improving your workflow and efficiency.
Start-Stop Universal's Intuitive Graphic Interface
The graphic interface is easy to use and simple while containing all relevant controls, notifiers, and options. Start-Stop UNIVERSAL will work while running in the background and several display options allow you to simplify the interface, turn it 'always on top,' or reduce it down to a simple need-to-know task-bar.
1. Playback Controls and Information: Use mouse controls to quickly scan through files while you monitor the remaining and played file duration.
2. Bookmarks: Set up to 16 bookmarks per file with hot-key control.
3. Play URL: Open and transcribe directly from Internet hosted files.
4. Job Manager: Job manager allows you to queue files, view demographic information, set continuous play, and archives completed files.
5. Instant Sound Magnifier: Slows down quickly-spoken words and phrases automatically if selected.
6. Step options and Pedal Monitor: All pedal clicks are displayed on the interface for simple, accurate feedback. Set the step amount and auto-step amount to suit your particular style.
7. Constant-Pitch, Variable Speed (Tempo) Control: Slow playback speed to as little as 10%, or increase it by as much as 190%, without changing the pitch of the user's voice!
8. File Information: Quickly view file details: format, file size, and length.
Re-dictation Option:
Add Nuance® Dragon® Professional Individual V15 to your Conference Recording and Transcription Package, and instead of typing, just type with your voice, repeating each phrase or sentence from the meeting into Dragon, instead of typing it.
Twice as fast as typing!
*Note: Dragon will not transcribe directly from a meeting recording, but the transcriptionist can use it as their personal typing aide to instantly type with up to 99% accuracy.
How to Order
Order Online below by choosing either the package with four microphones or the package with two microphones. Or speak to one of our digital dictation and transcription specialists at (866) 254-0714. Orders placed before 3:30PM Eastern Time Monday-Friday will be shipped same-day. The LCCRS kits are eligible for Free UPS Ground Shipping.
$598.92
Start-Stop Low-Cost Conference Recording System LCCRS-4 # 77440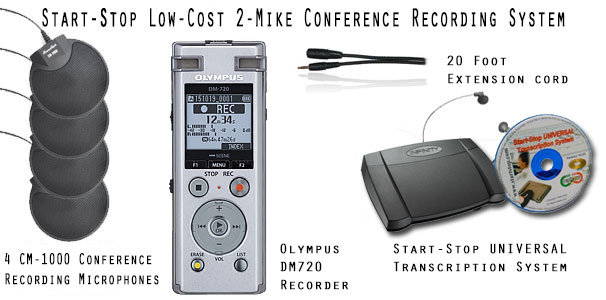 Includes: 4 X CM-1000 Conference Microphones with special L-R Y-adapter, Olympus DM720 Linear Digital Recorder, Start-Stop UNIVERSAL Transcription System, 20 Foot microphone extension cord, Free Concierge Technical Support, One Year warranty on hardware, Free UPS Ground Shipping.
$478.93
Start-Stop Low-Cost Conference Recording System LCCRS-2 # 77445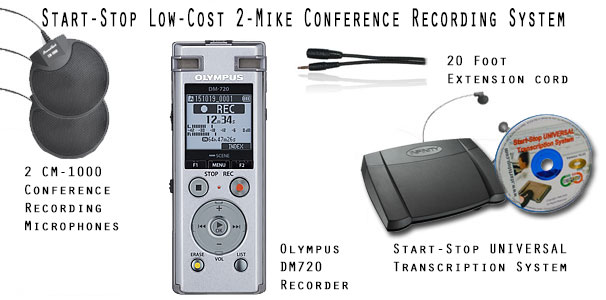 Includes: 2 X CM-1000 Conference Microphones with special L-R Y-adapter, Olympus DM720 Linear Digital Recorder, Start-Stop UNIVERSAL Transcription System, 20 Foot microphone extension cord, Free Concierge Technical Support, One Year warranty on hardware, Free UPS Ground Shipping.