Work flexible - Work Smart - Focus on the People Who Matter with SpeechAir
The Philips SpeechAir Smart Voice Recorder is the future of dictation. This smart audio recorder will save you time, allowing you to focus on the people and tasks that are of most importance in your work life. Philips combines the familiar dictation slide switch for managing recording and playback with the intuitive touch screen interface that we all have become adept at in today's high-tech world.
The Philips SpeechAir Smart Voice Recorder can always be connected via Wi-Fi means that it can send and receive files from anywhere, and because recordings are encrypted in real-time using 256bit level encryption means your client and patient information is protected with the highest government standards.
Three ideally placed high quality microphones capture every syllable whether you are in a quite patient room, a busy ER, or on the court steps while noisy street traffic passes. The SpeechAir smart audio recorder fits easily into your hectic professional life and workflow. Because of it's Wi-Fi capabilities your recordings can instantly and securely sent to your assistant or Philips SpeechLive transcription service (a service that provides trained transcription professionals who quickly type up your documents for you. For those with Nuance® Dragon® Medical Practice Edition 4, Dragon Medical One, Dragon Legal Group, or Dragon Professional Group you can also send your recording there for almost instant transcription results.
For those in the medical profession, the Philips SpeechAir Smart Voice Recorder can even connect to your hospital information system (HIS) so that you can be certain that recordings are connected to the correct patient.
Built with shockproof Gorilla Glass and with antimicrobial surfaces make the SpeechAir smart audio recorder ideal for any environment, especially critical locations like hospitals and doctor offices.
Quick Overview:
Superior Audio Quality and Design
Voice Recordings are optimized via three dedicated microphones
Designed with power saving features that extend the battery use and life
Gorilla Glass touch screen that is shockproof and a case designed for durability and is antimicrobial
A wear-free slide switch provides familiarity and function for the everyday use
Enhanced Productivity:
Built-in Wi-Fi, LAN, Bluetooth, USB and VoIP for staying connected from anywhere while on the move
A camera and barcode scanner give ability for quick file association
Docking station provides fast battery charging
Created and Designed for Professional:
Focus solely on dictation with Dictation Mode
Real-time file encryption for the maximum data security
The leading dictation software that makes for a time efficient workflow
Unlimited Tech Support, with deluxe installation support via telephone and GotoMeeting®
No charge for VIP care when purchased through us
Real engineers on staff who know how to integrate the Philips SpeechAir with your professional need
For more on the SpeechAir features, see below.
This smart audio recorder is engineered for incredible accuracy (6 out of 6 Stars accuracy rating), when used with Nuance Dragon Professional Group 15, Nuance Dragon Legal Group 15, or Dragon Medical Practice Edition, and coupled with the most reliable Philips software that's already per-integrated with Dragon that HTH Engineering, Inc. has ever tested. With purchase of Dragon software, you can have automatic transcription of your voice every time you dock your Philips SpeechAir dictation recorder in its included cradle.
The Philips SpeechAir Smart Voice Recorder can dramatically enhance your overall productivity and daily workflow!
Powerful yet simple: Dictate and dock; your dictation can be sent to your transcriptionist automatically.
Perfect for any Professional who needs to dictate on the move or in the office:
Whether you need to transcribe your recordings yourself or have an office assistant manage them, you will love the Start-Stop UNIVERSAL.
HTH Engineering, Inc. supports your purchase of the SpeehAir with friendly, expert "concierge" technical support via telephone and/or GotoMeeting™ for as long as you own the equipment.
SpeechAir Smart Voice Recorder Features and Benefits
Three Professional Microphones
The three microphones are each designed for special purposes and all deliver the ultimate sound quality every professional needs. The 360° microphone is designed for meetings and dictation. For noisy environments the direction microphone seals the job. The VoIP (Voice over Internet Protocol) telephony mic is used automatically when you use the SpeechAir to make phone calls with it.
Always connected Wi-Fi, LAN, USB & Bluetooth
The SpeechAir can always be connected via the many built in ways to access any network. With the built in Wi-Fi you can save time when on the move by connecting it to your cell phone hot spot to transfer recordings to your transcription staff or service. You can also easily connect to the hospital or office Wi-Fi for making calls and accessing email. Make use of the built in Bluetooth to send and receive data or even connect to an external speaker system.
SpeechExec workflow software
The SpeechExec Pro software helps make you more efficient with your time and workflow through streamlining the transfer of documents between you and transcriptionist. The software gives you the power to monitor the status of your work simply and efficiently.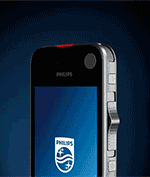 Click to enlarge.
Wear-free slide switch with faithful ergonomic design
Designed for easy one-handed use, the comfortable slide switch will won't disappoint. The switch gives you control over play, stop, fast forward, and fast rewind. The function key above the switch gives immediate access to the dictation app and is customizable.
Fast Charging & Connected Docking Station
The docking station provides for fast charging of the SpeechAir. Docking will automatically transfer all your recordings to your USB connected computer. Or you can connect the dock directly to your office LAN and transfer files over the network without a computer. The docking station includes a Kensington anti-theft lock.
Strong Government level data security
The SpeechAir provides real time 256 bit encryption of recording using the Advanced Encryption Standard (AES).
This makes the Philips SpeechAir perfect for medical dictation (HIPAA), legal, and law enforcement use.
Easily assign the a PIN code to protect from unauthorized use or file playback of recorded dictations. The camera feature can be locked and Wi-Fi networks can be restricted for employees.
Built in Camera and Barcode Reader
The SpeechAir gives you the powerful ability to attach photos directly to your dictations. This saves your time when needing to associate important components to your documenting of cases, patients, and events.
You can also make use of the integrated barcode scanner for linking patient / client data to your dictation recording.
Gorilla Glass Tough & Antimicrobial Resistant
The Gorilla glass means your device is scratch and shock resistant to a US military standard of 516.6.
The device housing is made from antimicrobial synthetics which combat bacteria and other micro-organisms. Together the glass and synthetic materials ensure hygienic use of the Philips SpeechAir.
Philips Integrated Dictation App
Philips has integrated the SpeechAir with their professional dictation features like editing modes, priority, EOL flag, and enhanced data & dictation list. There is also sending options that allow for the selection of network folder, Philips SpeechLive services, or email recipients.
The dictation mode makes disables the other functions and keys on the SpeechAir that are not needed for dictation so that you can focus on your core task of dictation. So no inadvertent button pushing.
Hardware SDK
The Hardware SDK makes it possible for the SpeechAir to be integrated into your own workflow solution. A perfect example of this is connecting it to a hospital information system (HIS) so that you can access patient data directly on the SpeechAir.
It also enables the IT department to remotely configure the SpeechAir in real-time and lock important settings for an extra layer of security.
Philips SpeechAir Smart Voice Recorder
Model #36850

Click to enlarge
In Stock for Immediate Delivery
(same day shipping for all orders placed by 3:30 p.m. EDT)
Call
(866) 254-0714

to Get Your Custom Quote
System requirements (SpeechExec workflow software):
Processor: Intel dual core or equivalent AMD processor, 1 GHz or faster processor
RAM memory: 2 GB (32 bit)/4 GB (64 bit)
Hard disk space: 100 MB for SpeechExec software, 4.5 GB for Microsoft .NET Framework
Operating system: Windows 10 (64 bit), Windows 8.1/7 (32/64 bit), Windows Server 2012 (64 bit), Windows Server 2008 R2 (32/64 bit)
Free USB port
Internet connection for required software activation
Graphics card: DirectX-compliant graphics card with hardware acceleration recommended
Sound: Windows-compatible sound device
Browser: Internet Explorer 9 or higher, or current version of Chrome or Firefox
Package Includes:
Philips SpeechAir Smart Voice Recorder
Docking station
In-ear headphones
2 USB Cables
Power supply with international adapters: US, UK, Europe, Asia Pacific
SpeechExec Pro Dictate dictation software
Quick Start Guide
1-year Manufacture Warranty
PLUS:
Free 1-Day shipping within the USA (48 states)
Exclusive HTH Engineering "Concierge" Turn-Key Tech Support and Free Unlimited Support Via GotoMeeting and/or telephone