SpeechMike Premium Air is in Stock NOW!
The Philips SMP4000 SpeechMike Premium Air Touch Desktop Microphone is the apex of desktop dictation microphones from the engineers at Philips and quite possibility the best wireless microphone in the market today. Philips has taken the best of their high quality microphones and their patented Lossless Speech Technology and wrapped it all in one beautifully ergonomic wireless package.
No wires means you are not tethered to your computer and are free to move about your office or examination room. The long life Li-polymer battery ensures 24 hours of operating life between charges so that you need not worry about how long you've been using it that day.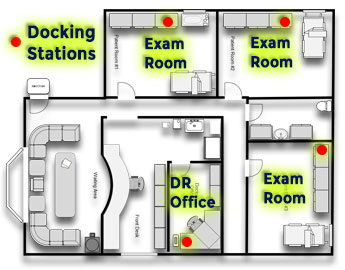 Philips has also introduced the incredible ability to be able to use the SpeechMike Premium Air in multiple rooms by using extra docking stations*. This enables doctors to carry the microphone with them from examination room to examination room. (*Pricing and availability of Extra Docking Stations TBD [will be announced].)
The decoupled microphone provides clear speech recording by separating the microphone from the device housing. This microphone separation from the body means that almost no noises from handling it, nor background noises, nor click noises are recorded. This makes the SMP-4000 highly accurate for speech recognition software like Nuance® Dragon® Medical Practice Edition 4 or Nuance Dragon Legal Group 15.
Philips durable touch sensor, which replaces the trackball which could get gummed up with debris, enables quick and easy navigation of the computer user interface. Easy to clean, the touch sensor means you won't need to put down the microphone to operate the computer mouse.
Integration with IT infrastructures and backwards compatibility means that getting the SMP4000 to work well in large businesses, like hospitals, or in small offices, like a lawyer's office, will not be a difficulty.
You will find that the Philips SMP4000 wireless dictation microphone is very comfortable to hold for long periods of time. Not too heavy, not too large, not too small, but just the right fit for the human hand. Philips technicians took their time designing an ergonomically comfortable device that works with you to enhance your workflow routine and even to improve and speed along your daily work routine.
Windows® 10 / 8.1 / 7 / Windows Server 2012 / 2008 R2, Mac OS 10.11/10.12!
With the SMP4000 SpeechMike Premium Air, Philips continues to out-perform other desktop dictation microphones.
Features of the Philips SpeechMike Premium Air SMP4000:
This wireless dictation microphone is perfect for any professional who needs a polished time-saving dictation solution:

Medical Professionals
Technicians

Attorneys
HTH Engineering, Inc. supports your purchase of the SMP4000 with friendly, expert "concierge" technical support via telephone and/or GotoMeeting™ for as long as you own the equipment.