Windows 10 / Windows 8 / Windows 7 / XP
Mac OS, Citrix, and Dragon Compatible!
The new Olympus DS-9000 Professional Dictation Recorder puts latest high tech dictation recorder into your busy hands today. The Olympus DS-9000 digital voice recorder is the little brother to the Olympus DS-9500 and retains all the features that today's demanding professionals require from an always ready dictation recorder. Easily send 256-bit encrypted recordings from the Olympus DS-9000 digital voice recorder to be transcribed when you sync it with the ODMS Olympus digital voice recorder software. The Olympus DS-9000 does all the things you needed from the DS-7000 but it is much improved with a number of new and improved features. Plus, with a new version 7 of the Olympus Dictation Management System (ODMS) that handles your dictation workflow you will find your dictation work simplified.
Whether you are a mobile stenographer needing a system to record accurate accounts of testimony, an office professional needing to make notes for projects or to record conference meetings, or lawyer keeping track of day to day client meetings, the DS-9000 is the perfect tireless companion that responds to your immediate input. No matter your profession, this digital recorder is the workhorse you are looking for when it comes to professional digital voice recorders.
Rugged and Able to Handle the Toughest Work Day!
Tough as nails: withstands a 4.9-foot drop, durable and built to withstand extreme temp environments and chemicals.
Enhanced usability: 40% larger LCD, ultra Long battery life, up 360 hours standby, compared to previous models.

New!

The Olympus DS-9000 digital voice recorder features the world's most advanced active phase noise-canceling microphone available: Amazingly clear voice pickup in spite of background noise. Use it in airports, subways, construction locations, busy offices or even on the streets of New York with confidence.
Complete "integration-ready-tested" and works perfectly with Dragon Medical, Professional, Legal, and Law Enforcement speech recognition software: dictate in noisy environments but still have Dragon create a transcript with up to 99% accuracy on the back-end when synced at the office.
Multi-Use: The professional grade microphone means you can use the same unit for dictation and conference recording, MP3 true stereo microphones with sound-field re-creation of where everybody is sitting in the room capture everything.
Easy setup Wizards: Software wizards guide you through the setup process. When you purchase through StartStop.com, you get our expert "concierge" technical support via telephone and/or GotoMeeting™ sessions for as long as you own your equipment.
Why Today's Work Professionals Choose the Olympus DS-9000 Digital Voice Recorder
The world constantly buzzes with noises that interrupt and overwhelm our important communications, so it is imperative to a successful professional to capture thoughts, meetings, and interviews regardless of environmental noise. One of the most troubling obstacles to good communication today is clearly capturing it and recording it for referral later: days, weeks, and even years later. The latest technological advances engineered into the Olympus DS-9000 digital audio recorder overcomes the obstacle with ease and simplicity.
Perfect for any Professional who needs to dictate efficiently:
Medical professionals
Attorneys
Business dictation
HTH Engineering, Inc. supports your purchase of the Olympus DS 9000 with friendly, expert "concierge" technical support via telephone and/or GotoMeeting™ for as long as you own the equipment.
Whether an insurance adjuster on the road, a doctor making rounds at the hospital, a police investigator at crime scene, or a lawyer traveling on the Metro in Washington DC, the Olympus DS-9000 digital voice recorder will provide you with the ability to accurately record your dictations without fear of environmental noise. The intelligent active phase noise-cancellation microphone system means you can be confident that only your voice will be recorded. This means that all your transcriptions by an assistant or from Nuance® Dragon® software will be accurate and trouble free.
Researcher
Lawyer
Doctor
Teacher
Student
Insurance investigator
Pastor
Scientist
Author / Screen Writer
Business Traveler
Travel Writer
Project Manager Professional (PMP)
Self-Employed Professional
Police Officer / Police Detective
FBI Agent and other government agencies
Writer
Journalist / Reporter
Private Detective
Biologist / Chemist
---
Price includes Free UPS shipping within the contiguous United States (USA 48); applies to DS-9000 only.
2-Year WARRANTY EXCLUSIVELY FROM START STOP!

30 day .

Better Business Bureau A+ rated since 2001.
---
DS-9000 Features and Benefits
Super High Contrast LCD Screen
Large 2.4-inch LCD shows recording time, battery status, folder, time remaining, VU-Bargraph (microphone level) dynamically while you're recording, and notification on each recording's status.
The new DS-9000 screen is 40% larger than the current DS-7000.
(For always connected Wi-Fi capability see the new DS-9500)
World's Most Advanced Microphone
The engineered advanced active phase noise-canceling microphones capture crystal clear recordings no matter the environmental background noise. You can use it without fear of not hearing a word, whether you are on construction site in Dallas, Texas, or sitting at the Waverley train station in Edinburgh, Scotland.
Studio quality sound reproduction. Includes a triple layered pop-filter.
Rock-Solid One-Hand Operation
Olympus "Tough Body" construction is made for heavy daily use.
The DS-9000, like the DS-9500, is shock-proof up to a 4.9 ft drop. This is NOT a fragile digital recorder.
Alcohol Wipe Resistance.
Constructed to be Water Resistant.
Optical Slide-switch was designed after the classic micro-cassette recorder and offers precise Record/Stop/Play/Rewind in a single control which reduces the risk of a mechanical failure.
Designed for extreme temperature environments.
Withstands chemicals.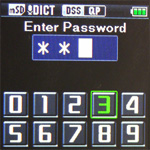 Enhanced security features
Your recorder can have a personalized 4-digit PIN
256-bit file encryption with DSS Pro (DS2) audio codec secures each recording.
Ideal for sensitive information, Including medical dictation (HIPAA), legal, and law enforcement
WORKGROUP IMPROVEMENTS
ODMS Release 7 Software has Easy Setup Wizard
Enterprise Web Management of all users and functions over Wi-Fi with optional AS-57 Admin Kit
Olympus DS-9000 Digital Recorder Accessories
Olympus DS-9000 Professional Dictation Recorder Kit Model #44400
Box Contents:
Olympus DS-9000 Professional Digital Dictation Recorder
2 GB
LI–92 lithium-ion battery
KP–30 USB cable
Olympus ODMS Release 7 Dictation Module Software (license and download link)
Leather carrying case
Manual
Includes 2 year warranty
PLUS:
Free UPS shipping within the contiguous United States (USA 48)
Exclusive HTH Engineering "Concierge" Turn-Key Tech Support and Free Lifetime Support Via GotoMeeting and/or telephone
Olympus DS-9000 Professional Package (includes CR-21 cradle) Model #44405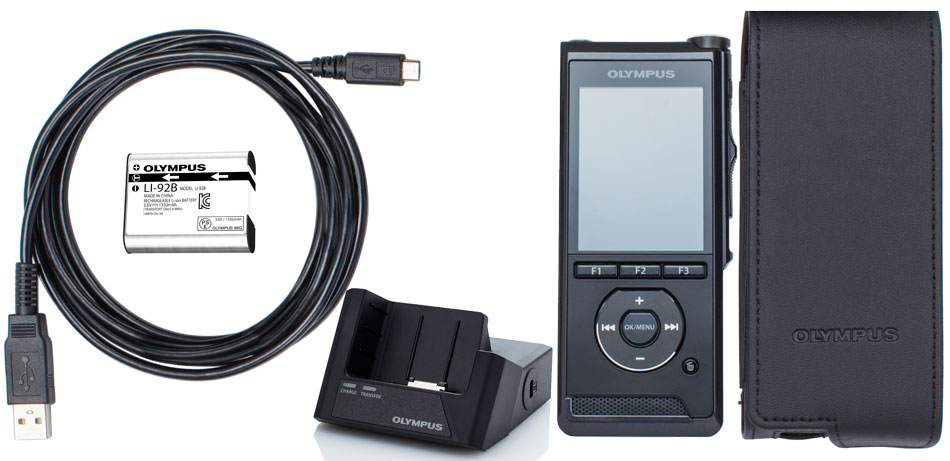 Box Contents:
Olympus DS-9000 Professional Digital Dictation Recorder
2 GB
LI–92 lithium-ion battery
KP–30 USB cable
Olympus ODMS Release 7 Dictation Module Software (license and download link)
Leather carrying case
Manual
Includes 2 year warranty
Olympus CR-21 Cradle
PLUS:
Free UPS shipping within the contiguous United States (USA 48)
Exclusive HTH Engineering "Concierge" Turn-Key Tech Support and Free Lifetime Support Via GotoMeeting and/or telephone