Windows 10, 8.1, 7 / Vista / XP / Mac OS / Citrix and Dragon Compatible!
The Philips DPM 7000 Pocket Memo is a durable and a technologically advanced Voice / Dictation Recorder that can keep pace with your demanding work flow. Two Microphones deliver brilliant audio recordings in the most difficult of work environments. No need to sacrifice elegance for durability, the Philips DPM 7000 voice dictation recorder's stainless steel construction meets the demands of mobile professionals and their active work day.
Unlike the Philips Pocket Memo DPM6000 Voice Recorder, the DPM7000 utilizes the familiar and classic slider switch to control your recordings.
The Philips DPM 7000 voice dictation recorder transfers your dictations to the computer with ease. The Philips digital pocket memo includes SpeechExec workflow software to aid you in managing and quickly transferring your recordings.
A Large Full Color display and Extended Life Li-ion Rechargeable Battery add functionality and dependability.
These solid features make the Philips DMP 7000 speech recorder great for use with optional Dragon Naturally Speaking.
Powerful yet simple features enhance your productivity and daily workflow: Priority setting for getting urgent jobs processed first.
Features Superior audio quality and design:
Two microphones for superior stereo audio recordings
Natural Slide-Switch for professional recording control
Robust stainless steel casing for extra durability
Enhance your productivity
SpeechExec workflow software for efficient data management
Large color display and intuitive user interface for easy, convenient operation
Light sensor and Li-ion battery for extended use
Designed for professionals
Priority setting for getting urgent jobs processed first
High recording quality in DSS and MP3 format
Perfect for any Professional who needs to dictate on the move or in the office:
Administrative Assistant
Dictation on the Move
Attorneys
Whether you need to transcribe your recordings yourself or have an office assitant manage them, you will love the Start-Stop UNIVERSAL.
HTH Engineering, Inc. supports your purchase of the DPM 7000 voice dictation recorder with friendly, expert "concierge" technical support via telephone and/or GotoMeeting™ for as long as you own the equipment.
Price includes Free UPS GROUND shipping within the contiguous United States (USA 48).
Get free UNLIMITED Technical Support from our expert technicians when you purchase as DPM7000 from us.
1-Year Warranty
30 day Money Back Guarantee.
Better Business Bureau A+ rated since 2001.
DPM 7000 Pocket Memo Features and Benefits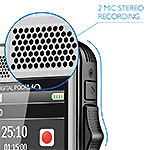 Two microphones for superior stereo audio recordings
Philips continues to innovate and sound recording. The DPM7000's two microphones pick up your dictations with clarity.
This gives you the necessary ability to important them into speech recognition software like Nuance's award winning Dragon 12.5 Professional.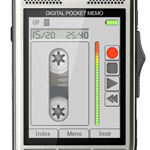 Large Beautiful, high-resolution color display
The large 2.4 inch full-color display (TFT 320 x 240 pixels) gives you sharp images, so seeing everything at a glance is effortless.
The intuitive interface is optimized for quick operation. You can even choose to operate it in classic mode providing the feel of a analog device but all the benefits of a digital one.
SpeechExec workflow software
The SpeechExec Pro software helps you organize the workflow of dictation files and resulting documents between you and transcriptionist. The software gives you the power to monitor the status of your work simply and efficiently.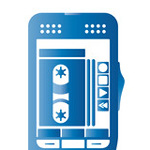 One-Handed Effortless Ergonomic Design
With a classic slider switch the DPM7000 is a durable stainless steel device designed to snuggle in the palm of your hand. The quick-response and ergonomic functionality makes for easy singlehanded operation of all recording and playback functions. File editing (insert, overwrite, append) is quick and efficient.
Extended battery runtime/Convenient Charging Station
A high-capacity Li-ion battery provides long lasting power for the professional on the go. The DPM 7000 can even be easily charged via a standard micro USB jack. An integrated light and motion sensors extend battery life by adjusting the brightness of the display. The optional docking station can automatically transfer your dictations and offers speedy charging.
Prioritize Your Dictations
Let's face it, some things are more important than others. Understanding this Philips has included the ability to set which dictations are more urgent than others so that they can be processed first.
This feature makes sure your important recordings are not overlooked and helps you and your transcriptionists manage your workloads better.
Philips DPM 7000 Pocket Memo Voice/Dictation Recorder Kit
Model #36905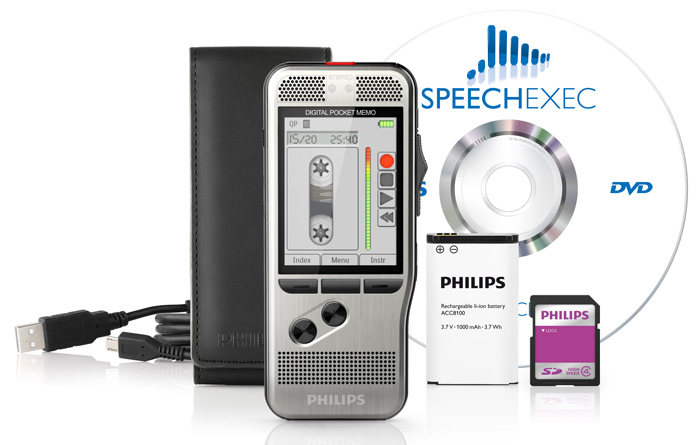 In Stock for Immediate Delivery
(same day shipping for all orders placed by 3:30 p.m. EDT)
Call
(866) 254-0714

to Get Your Custom Quote
System requirements (SpeechExec workflow software):
Processor: Intel Pentium 4, 1.0 GHz or equivalent processor
RAM memory: 1 GB (2 GB recommended)
Hard disk space: 100 MB for SpeechExec software, 850 MB (32 bit)/2 GB (64 bit) for Microsoft .NET Framework (Windows)
Operating system: Windows 10/8/7/Vista (32/64 bit), Windows XP (32 bit), Mac OS X 10.9/10.8 (Mac functionality may be limited)
Free USB port
DVD-ROM drive
Graphics card: DirectX-compliant graphics card with hardware acceleration recommended (Windows)
Windows Media Player must be installed on a Windows operating system
Package Includes:
Philips DPM 7000 Pocket Memo Digital Voice Recorder
Memory card
Rechargeable battery
USB cable
Pouch
SpeechExec Dictate workflow software DVD with 2 year license
Quick Start Guide
1-year warranty
PLUS:
Exclusive HTH Engineering "Concierge" Turn-Key Tech Support and Free Unlimited Support Via GotoMeeting and/or telephone