The DMPE4 upgrade has been discontinued- as of 4/1/21.
Dragon Medical has moved to the cloud! Call or Chat with us Now, to get a special private upgrade offer to new Dragon Medical One.
The right Rx for your EHR. Upgrade to Dragon Medical Practice Edition 4 now and check out the great new features.
**Consider upgrading to the power of the cloud with the new Dragon Medical One which is always up-to-date.**
How easy is it to upgrade? - EASY! Just launch the downloaded file and .
Same Day Digital Download

& Flash USB Drive Stick*
(*shipped USPS Priority separately at no extra charge)
Each upgrade license will initially upgrade and activate on up to 4 PCs at once.
Will I eventually run out activations if I have a computer die? -
Uninstalling frees up the license activation for another computer if connected to the internet
Installing your upgrade on a new computer that doesn't have the old software?
The Nuance Dragon Medical Practice Edition 4 Upgrade is the ultimate solution for a speech-enabled EHR. Over 200,000 physicians worldwide have already integrated Dragon Medical speech recognition technology into their practice with dramatic results that include a quick ROI.
Dragon Medical Practice Edition 4 can change the way you practice medicine by reducing the amount of time you spend on clinical documentation, saving you money on transcription services, promoting higher reimbursement levels, and giving you more time to focus on quality patient care.
The correct diagnosis matters
The first step to a speech-enabled EHR with Dragon Medical Practice Edition bundles is a thorough analysis and an accurate diagnosis of your unique workflow. We create complete solutions with your specific needs in mind. We also offer a complete line of Dragon Medical Practice Edition accessories so you always have access to the technology you need.
Ongoing treatment for your EHR
Technology without the right support can create unnecessary challenges. We eliminate the headaches associated with inadequate customer service. When you purchase Dragon Medical Practice Edition 4 from us you secure expert installation services, customization of features that are most important for your practice, and certified training services so you can hit the ground running with your new workflow solutions.
"I wanted to let you know just how fantastic the new Dragon Medical dictation software is. I just installed it for the 1st time tonight and I absolutely love it. The colloquial dictation which I currently am performing within my medical vocabulary database is outstanding. No more need to switch between speech types as far as I can see, it appears to be perfect in all aspects.
"The speed is incredibly peppy and the upgrade process appeared to be simple. So far 100% perfect dictation in these last 2 paragraphs, even with my old Dragon Medical Practice Edition 2 I would have had at least a few mistakes by now.
"I am glad I went with the upgrade, most certainly." - Tony Cambridge, BVMS, Diplomate, American College of Veterinary Surgeons, Veterinary Surgical Specialists
---
Call us today to learn more about how we can help you diagnosis and treat your EHR pain points.
---
Features that make the difference:
Up to 14% Improvement in Accuracy
Support for internal microphones
Updated UI with modern DragonBar
Faster Profile Creation
Auto Gain Control and new models allow for profile creation without the need for training
Maintains compatibility with the latest EMR updates
Major Advantages of Nuance Dragon Medical Practice Edition 4 Upgrade:
Recognition now requires only a single processor core
14% accuracy increase, and almost reads your mind, compared to previous Dragon Medical Practice 2
Significantly smoother than previous versions
Improved support for Office 2010, 2013, 2016
Click here to download the What's New (pdf)
What you can expect:
More efficient navigation & a Modern Dragon Bar
Complete voice control
Less time spent pointing and clicking
Quicker production of patient notes
More robust clinical records
Faster recognition speeds
A New Level of Customer Support
The key to maximizing your EHR with Nuance Dragon Medical Practice Edition 4 begins with proper installation, customization and training. We provide all three.
Upgrade from Dragon Medical Practice Edition 2 or higher.

With every purchase of Dragon® Medical Practice Edition 4,
ONLY HTH provides:
FREE Training and Setup From Our Certified Team of Experts Gets You Up and Running.
Our certified Dragon® Medical Practice Edition 4 pros will help you set up and get to work quickly
We'll also teach you how to create macros and templates to streamline your document workflow.
Got questions?
We have answers!
FREE Integration Support for your EHR/EMR System from our Engineers!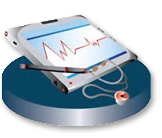 Our Nuance®-certified experts will assist you with integrating/using Dragon Medical Practice 2 with your favorite EMR/EHR (support for all EMR/EHRs, with extra integration features, and support for those that aren't specially integrated as well).
Don't be stumped!
We can help.
FREE LIFETIME Concierge Technical Support by Nuance Certified Staff
Your purchase of Dragon® Medical Practice Edition 4 includes free technical support from our certified techs for as long as you own the product. Our friendly engineers can even connect to your computer using GotoMeeting to get everything perfect the first time.
Free 1-Day Shipping within the USA (48 States) and Canada! *
Free 1-Day Shipping within the USA (48 States) and Canada! *orders placed by 3:30 PM Eastern time.
30 Day Money Back Guarantee –
You may return Dragon Medical Practice Edition 4 if you are not completely satisfied!
FREE Bonus Training DVD and FREE 1-on-1 personalized training
FREE Bonus Training DVD on top of our FREE 1-on-1 personalized training with one of our friendly experts. Receive our exclusive "Basic and Advanced" Training DVD".
FREE Dragon Medical Templates!
Exclusively from HTH Engineering! With your purchase of Dragon Medical Practice Edition 4, receive at no extra charge, exclusive access to HTH Engineering's exclusive Dragon-certified Stock Medical Template Library! Hundreds of customizable templates in various medical specialties are included for use with Dragon Medical, in addition to the 13 example built-in templates that come with Dragon Medical!
A $740+ value!

Nuance Dragon Medical 4 Includes
the latest Dragon Medical Practice Edition 4 (digital download, box is for display purposes only)
Flash USB Drive Stick with Dragon Medical Practice Edition 4 (shipped via Priority USPS)
Free Setup and Technical Support and Lifetime Training
Bonus Training Video on DVD