Total dictation control at your fingertips
Nuance® PowerMic 4 brings clinician dictation to a new level by making it quick and easy to control the microphone, navigate and select on-screen fields, and insert, review, and edit generated text.
With new features such as a larger pointing device, additional buttons, and magnetic mount support, physicians will enhance their productivity with an improved ergonomic control of dictation and speech recognition functions. Available in 3 and 9-foot cord lengths.
Magnet mount support allows compatibility with magnetic mounting systems, such as laptop, desk, or car mounts.
USB plug-and-play installation ensures compatibility with a wide range of computers.
Unidirectional noise-cancellation microphone ensures compatibility with a wide range of computers.
Easy-to-clean antimicrobial surface promotes safety in clinical settings.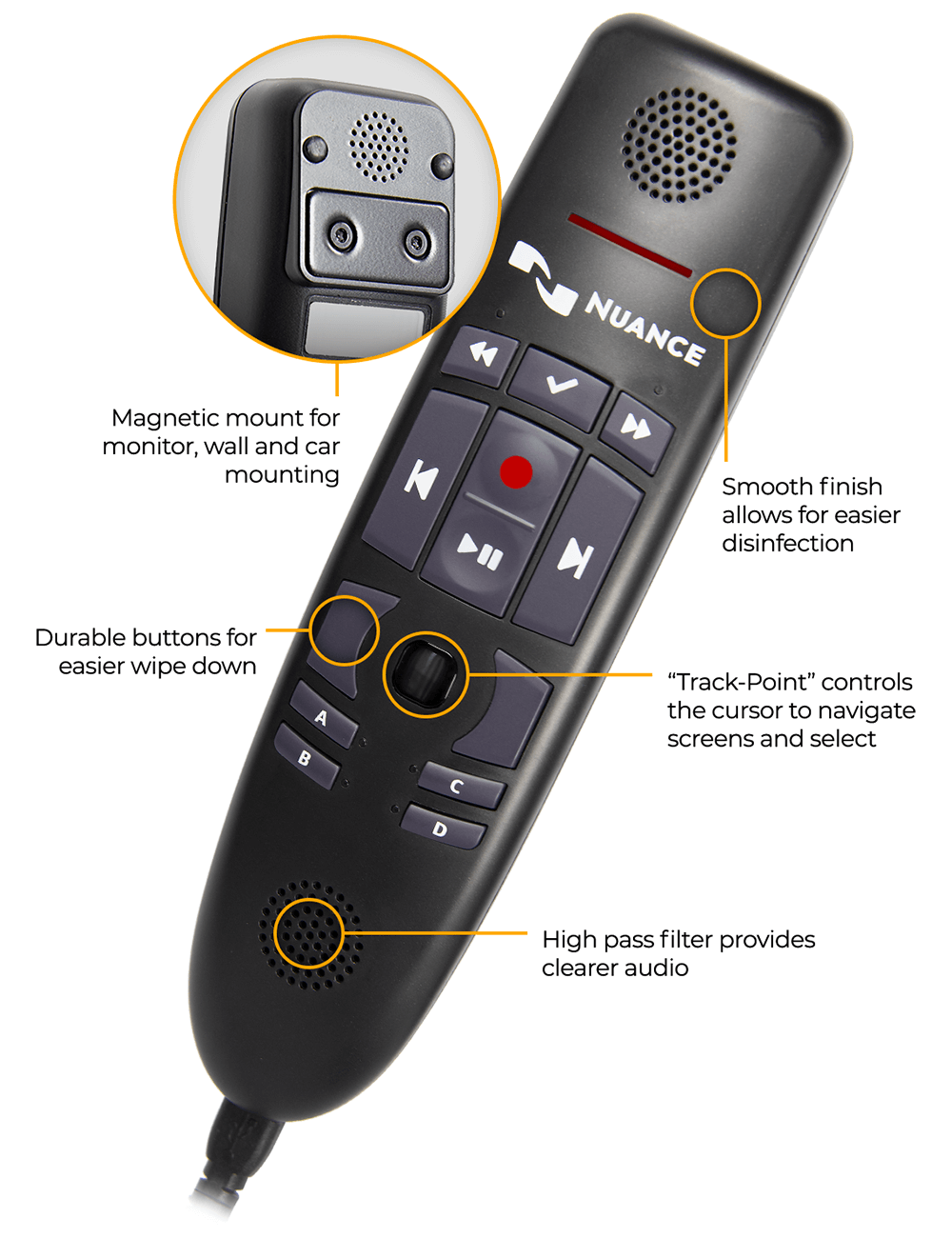 Thumb Control Operation
Simplified design makes it easier for dictating, navigating, reviewing, and editing speech recognition generated documentation.
USB Connectivity
USB connectivity ensures compatibility with a wide range of computers.
Accurate Dictation
Unidirectional microphone with noise-cancellation ensures higher accuracy in even the noisiest environments.
Intuitive Design for Ease of Use
Integrated pointing device, mouse functionality, and tab features speed navigation while a flush angled microphone offers optimal recording and user comfort.
Included at No Extra Cost:
Technical Support
We want you to be completely happy with your purchase so we offer concierge technical support for as long as your own the product.
Free UPS Ground Shipping
(USA Contiguous 48 States)
We know how important it is to get your order fast, so HTH Engineering maintains nine shipping locations all over the country. As long as your order is placed before 3:30PM Eastern Time it will be shipped on the same business day. Orders placed on weekends or after 3:30PM Eastern Time will be shipped on the next business day. Most orders arrive in 1-2 business days.
One Year Warranty & 30-Day Guarantee
Your investment is protected by a 1 Year HTH Engineering warranty and our 30-day money-back guarantee.