This product has been discontinued as of March 2022. Consider the newer:
From Olympus Dictation, the Olympus DR-2300 speech microphone is designed to enable easy integration in any work environment – no matter if in a doctor or lawyer practice.
With four designated programmable buttons on the front, as well as the one on the back, this speech microphone can be fully customized, enabling complete systems integration.
To provide the most secure and efficient dictation workflow, the Olympus DR-2300 offers a barcode scanner (available separately), which enables automatic allocation of voice files to client, case or patient records.
Features
Slide switch operation
Programmable buttons
High-sensitivity microphone
Programable user ID
Track ball
Improved software development kit
Included at no extra cost

Technical Support
We want you to be completely happy with your purchase so we offer concierge technical support for as long as your own the product.

Free UPS Ground Shipping (USA Contiguous 48 States)
We know how important it is to get your order fast, so HTH Engineering maintains eleven shipping locations all over the country. As long as your order is placed before 3:30PM Eastern Time it will be shipped on the same business day. Orders placed on weekends or after 3:30PM Eastern Time will be shipped on the next business day.

One Year Warranty & 30 day Guarantee
Your investment is protected by a one-year manufacturer's warranty and our 30 day money-back guarantee.
Olympus DR-2300 Desktop Dictation Microphone - Model #22300
The HTH Engineering Difference
One Year Manufacturer's Warranty
Concierge Technical Support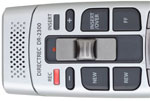 Olympus SC1 Barcode Scanner - Model #43250
Specs
Compatible barcodes: EAN-8, EAN-13, EAN-128, UPC-A, UPC-E, Code39, Code93, Code128, Codabar, MSI, Interleaved 2 of 5, RSS-14, RSS-Limited, RSS-Expanded
Class 1 Laser
Up to 30 code digits
10" range
80 degree scan beam deflection angle
The HTH Engineering Difference
One Year Manufacturer's Warranty
Concierge Technical Support
Add the Olympus SC1 Barcode Scanner to your order below by clicking on it below.
Or to purchase the Barcode Scanner separately, click here.
Technical Specifications
Overall Frequency Response
300Hz - 10kHz (SP), 100 - 14kHz (PCM)
Microphone sensitivity
-37dBv
Microphone sensitivity difference
Variable or 0/+6/+18 dB (Selectable from SDK)
Maximum output
320mW
Microphone/speaker diameter
10mm/28mm
Input level
+86dbSPL (-45dBv)
Cord Length
98.4" (2.5m)
Dimenstions
6.1 x 1.8 x 1.2"
Weight
7.3 oz (206g)