Windows 8/7/Vista (32/64 bit), Windows Server 2008/2008 R2/2003 SP 2

Take control of your work-flow and streamline it
with Philips Pocket Memo WLAN adapter.
Life is complicated enough, transferring your recordings shouldn't make it more complicated.
Thankfully we have the Philips Pocket Memo WiFi-LAN adapter.
The ACC8160 Wireless LAN adapter give you the ability to directly upload file over WiFi.
Dock your DPM8000 or LFH9600 series recorders in their cradles and the Philips WLAN adapter will instantly send your files from the dictation recorder to your transcriptionist.
Your dictation files are securely transferred to the company network using built-in WiFi. Automatic Firmware updates are easily deployed by System Administrators for Pocket Memo dictation recorders via an easy Web browser interface.
HTH Engineering, Inc. supports your purchase of the ACC8160 with friendly, expert "concierge" technical support via telephone and/or GotoMeeting™ for as long as you own the equipment.
Philips Pocket Memo WiFi-LAN Adapter ACC8160
Model #30155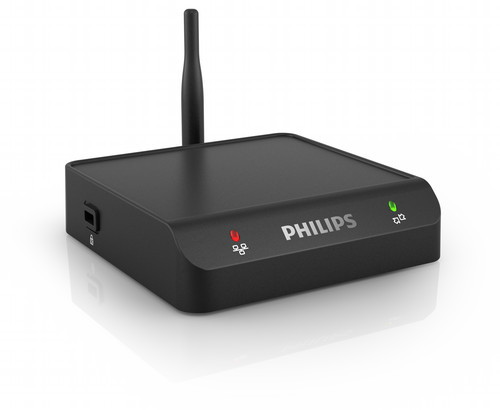 In Stock for Immediate Delivery
(same day shipping for all orders placed by 3:30 p.m. EDT)
Call (866) 254-0714 to Get Your Custom Quote
System requirements WLAN Adapter:
FTP or FTPS server with a user account for the WLAN adapter
DHCP server (recommended)
System requirements for administration software:
Processor: Intel Pentium 4, 1.0 GHz or equivalent processor
RAM memory: 1 GB
Hard disk space: 10 MB for the administration software, 850 MB (32 bit)/2 GB (64 bit) for Microsoft .NET Framework
Operating system: Windows 8/7/Vista (32/64 bit), Windows Server 2008/2008 R2/2003 SP 2
Microsoft .NET Framework 4.0
Microsoft Windows Installer 3.1
LAN connection
Package Includes:
WLAN adapter
Power supply
Ethernet cable
USB cable
Micro USB cable
WLAN antenna
Quick start guide
PLUS:
Exclusive HTH Engineering "Concierge" Turn-Key Tech Support and Free Lifetime Support Via GotoMeeting and/or telephone