The Olympus DS-3400 Digital Recorder fills the niche between the DS-5000 and the DS-2400 providing feature-rich recording in either the industry-standard .dss format or the high-tech .ds2 format. The DS-3400 includes three programmable buttons, removeable media, editing functions, and ships with the intelligent DSS Player Pro Dictation software.
This personal dictation recorder is ideal for any professional, student, or hobbyist that requires many of the productivity features that define the Olympus digital recording lineup, excellent audio quality, and the ease-of-use and interfunctionality of the .dss recording format.
Features
High quality DS2 recording format offers high-quality sounds and superior clarity in a highly compressed file size
Industry-standard DSS recording format means your dictation can be transcribed by most third-party transcription systems.
Supports encryption and decryption of files sent over the Internet
Includes a 1GB SD memory card and supports SDHC memory cards
Edit files with on-recorder insert or overwrite
Three programmable buttons enable customization
Verbal comment function allows transcriptionists to search and playback instructions on their computers
Includes DSS Player Pro Software (Compatible with Windows 7/Vista/XP/2000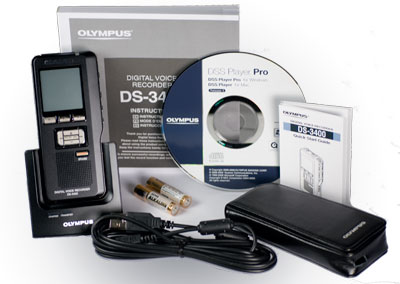 DS-3400 shown with complete package contents plus CR-10 cradle (sold separately).
Included at no extra cost

Technical Support
We want you to be completely happy with your purchase so we offer concierge technical support for as long as your own the product.

Free UPS 1-Day Shipping (USA Contiguous 48 States)
We know how important it is to get your order fast, so HTH Engineering maintains eleven shipping locations all over the country. As long as your order is placed before 3:30PM Eastern Time it will be shipped on the same business day. Orders placed on weekends or after 3:30PM Eastern Time will be shipped on the next business day.
Applies to DS-3400 only, when you place your order online.

One Year Warranty & 30 day Guarantee
Your investment is protected by a one-year manufacturer's warranty and our 30 day money- back guarantee.