Linear PCM Recording has arrived in the new DS-71. Enjoy recording in a 44.1kHz/16 bit sampling rate to capture every nuance of sound. Whether you are a musician, professional, or both, the DS-71 has all the features you need to go from your day job to your night gig. The 4GB of built in memory, give you an astounding 1,062 hours of recording time! The DSS Player software allows for great file management with both WMA and WAV file formats.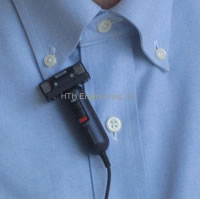 The DS-71 also works with the convenient and powerful RS-29 lapel microphone and remote control. The removable microphone included with the DS-71 can be removed and placed on the lapel for making it ideal for recording lectures or interviews.
Features
Windows 7 Compatible
16 bit/44 kHz linear PCM recording captures truer sound
1602 hours of recording time thanks to 4GB of internal flash memory
high-sensitivity detachable four direction stereo microphone supports surround sound and euphony.
High-contrast monochrome LCD panel with backlight
Variable Control Voice Actuator
Noise filter and noise cancelling
Playback and store WMA and MP3 music files
Included at no extra cost

Technical Support
We want you to be completely happy with your purchase so we offer concierge technical support for as long as your own the product.

Free UPS 2-Day Shipping (USA Contiguous 48 States)
We know how important it is to get your order fast, so HTH Engineering maintains eleven shipping locations all over the country. As long as your order is placed before 3:30PM Eastern Time it will be shipped on the same business day. Orders placed on weekends or after 3:30PM Eastern Time will be shipped on the next business day.
To redeem your free 2-day shipping enter discount code 'ds71quick' at checkout.

One Year Warranty & 30 day Guarantee
Your investment is protected by a one-year manufacturer's warranty and our 30 day money-back guarantee.
Technical Specifications
Storage Media
Built in 4GB flash memory
Display
Backlit LCD: Green LED for playback, red LED for recording
Device Operation
Push button main switch
File Format
WMA (Windows Media Audio)
Recording Mode
| | |
| --- | --- |
| Recording Format | DSS Pro |
| PCM Mode | 6 h 10 min |
| ST XQ Mode | 67 h 50 min |
| ST HQ Mode | 135 h 40 min |
| ST SP Mode | 271 h 30 min |
| HQ | 271 h 30 min |
| SP | 534 h 50 min |
| LP | 1,062 h 50 min |
Sampling Frequency
| | |
| --- | --- |
| ST XQ Mode | 44.1 kHz |
| ST HQ Mode | 44.1 kHz |
| ST SP Mode | 22 kHz |
| HQ | 44.1 kHz |
| SP | 22 kHz |
| LP | 8 kHz |
Overall Frequency Response
| | |
| --- | --- |
| ST XQ Mode | 50 - 19,000 Hz |
| ST HQ Mode | 50 - 16,000 Hz |
| ST SP Mode | 50 - 9,000Hz |
| HQ | 50 - 13,000Hz |
| SP | 100 - 8,000Hz |
| LP | 100 - 3,000Hz |
Data Organization
| | |
| --- | --- |
| 5 Voice folders | 200 messages per folder |
| 1 Audible folder | 200 messages per folder |
| 1 Music folder | 200 messages per folder |
Interface Input
| | |
| --- | --- |
| PC Interface | USB |
| Microphone jack | 3.5mm mini-jack |
| Microphone sensitivity | Conference / dication |
| Input level | -63 dBv |
Interfaces Output
| | |
| --- | --- |
| Speaker | Built-in 23mm round dynamic speaker |
| Max working output | 240 mW or more |
| Earphone jack | 3.5mm mini-jack |
Power Supply
| | |
| --- | --- |
| Power supply | 2 AAA batteries, 2 NiMH rechargeable batteries or AC power supply |
Dimensions
| | |
| --- | --- |
| Weight | 2.8 oz. (80g) with microphone |
| WxHxD | 4.37 x 1.48 x 0.63 in. without protructions |
Operating Systems & Requirements
Windows

Operating system: Microsoft Windows Vista Ultimate, Enterprise, Business, Home / XP Professional, Home Edition / 2000 Professional
CPU (Windows 2000/XP): 500 MHz processor or faster
CPU (Windows Vista): 800 MHz processor or faster
RAM (Windows 2000/XP): 128 MB or more
RAM (Windows Vista): 512 MB or more
Hard drive space (Dictation Module): 70 MB or more
Hard disk space (Microsoft .NET Framework Version 2.0): 700 MB or more
Display: 800 x 600 pixels or more 65536 colours or more
Drive: 2 x or faster CD-ROM, CD-R, CD-RW, DVD-ROM
USB port: One or more free ports
Audio I/O terminals: Windows-compatible sound
Internet Explorer 6.0 or later