As of 10/23/2018

the Olympus DS-7000 has been discontinued

and is no longer available for purchase.
See the brand new Olympus DS-9500 and Olympus DS-9000 for the latest technological advances in Digital Dictation Recorders from Olympus.
Windows 10 / Windows 8 / Windows 7 / Vista / XP,
Mac OS, Citrix, and Dragon Compatible!
The Olympus DS-7000 Professional Dictation Recorder is the latest and most advanced recorder available today, and enables professionals to dictate reliably, with automatic emailing or transfer of recordings within the office by just docking the recorder in the included cradle. 256-bit encryption for security (HIPAA medical use) as well as a 6 out of 6-Star Dragon Accuracy Score (for use with optional Dragon Naturally Speaking or Dragon Medical Practice Edition) make this the most flexible recording system available today, and will dramatically enhance your productivity and daily workflow! The included Olympus Dictation Software (Olympus Dictation Management System - ODMS) provides seamless, automatic, secure workflow to your transcriptionist and anywhere in the world. Order this Pro Digital Recorder today and get free shipping and free lifetime tech support!
Powerful yet simple: Just dictate and dock; your dictation can be sent to your transcriptionist automatically.
Perfect for any Professional who needs to dictate efficiently:

Medical professionals

Attorneys

Business dictation
HTH Engineering, Inc. supports your purchase of the Olympus DS 7000 with friendly, expert "concierge" technical support via telephone and/or GotoMeeting™ for as long as you own the equipment.
Why Professionals Choose the Olympus DS-7000:
Communication is key, today more than ever before. However, with the world buzzing along at gigabit speeds, one of the biggest challenges we all face is capturing and keeping our conversations and thoughts quickly and simply. The Olympus DS-7000 professional dictation recorder helps us meet this challenge with efficiency and accuracy.
Whether you are a police officer at the scene of a crime, a lawyer making notes on a case, or a journalist interviewing someone for a story, recording your thoughts in the moment is vital to success and accuracy. The ease with which your thoughts can then be transferred to your computer and transcribed is just one of the many advantages to using the Olympus DS-7000 Pro Digital Recorder to manage your workflow.
For whom is the Olympus DS-7000 professional digital recorder useful? Just to name a few:
Researcher
Lawyer
Doctor
Teacher
Student
Insurance investigator
Pastor
Scientist
Project Manager Professional (PMP)
Self-Employed Professional
Police Officer / Detective
FBI Agent and other government agencies
Writer
Journalist / Reporter
---
Price includes Free UPS 1-Day shipping within the contiguous United States (USA 48); applies to DS-7000 only.
2-Year Warranty with exclusive within the first 90 days AND Get free LIFETIME technical support from our expert technicians when you purchase as DS-7000 from us.

30 day .

Better Business Bureau A+ rated since 2001.
---
DS-7000 Features and Benefits
Brilliant color LCD
Large 2-inch LCD shows recording time, battery status, folder, time remaining, and VU-Bargraph (microphone level) dynamically while you're recording.
Superior sound quality
Innovative super-accurate microphone is independently housed to reduce pickup of movement and bumps.
Flawless sound reproduction with up to 16Khz/28kbps quality
5-star accuracy when used with optional Dragon.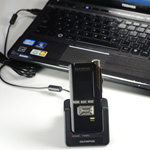 Complete workflow integration
The DS-7000 is packaged with the next-generation Olympus Dictation Management System (ODMS). Send dictation to your transcriptionist in the next office or around the world, or optionally send for automatic transcription using Dragon.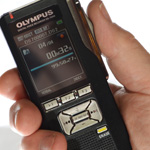 Simple One-Hand Operation
The 3rd-generation durable, precise slides-witch was patterned after a micro-cassette recorder, with Record/Stop/Play/Rewind on a single control.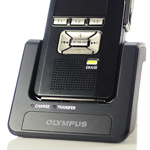 Included CR-15 Download/Charging Cradle
Convenient download: just place recorder into cradle.
Automatically charges recorder
Connections for hands-free dictation control, mini-USB, and AC adapter.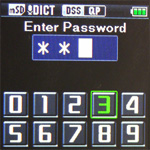 Enhanced security features
Recorder can have 4-digit PIN
128 and 256-bit AES encryption of each dictation file
Ideal for sensitive information, Including medical dictation (HIPAA), legal, and law enforcement
Olympus DS-7000 Digital Recorder Accessories

Olympus DS-7000 Professional Dictation Recorder Kit Model #44200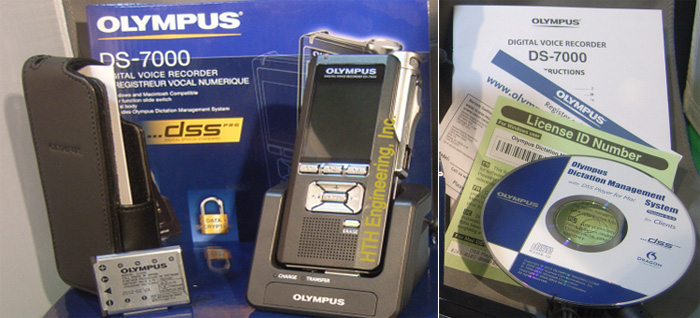 $499.99
In Stock for Immediate Delivery
(same day shipping for all orders placed by 3:30 p.m. EDT)
Call (866) 254-0714 to Get Your Custom Quote
Package Includes:
Olympus DS-7000 Professional Digital Dictation Recorder
2 GB internal Micro-SD memory card
CR-15 docking/downloading/charging cradle
LI-42B lithium-ion battery
USB standard to USB Mini 2.0 Cable
Olympus Dictation Management Software (ODMS) Version 6 on CD-ROM
Leather carrying case with velcro belt loop
Olympus A-517 AC Power/Charging Adapter
Instruction manual
2-year warranty
PLUS:
Free UPS 1-Day shipping within the contiguous United States (USA 48)
Exclusive HTH Engineering "Concierge" Turn-Key Tech Support and Free Lifetime Support Via GotoMeeting and/or telephone
2 Year Warranty and Free 90 Day Replacement

The Olympus DS-7000 is guaranteed against defects in material or manufacture for a period of 2 years from the date of original purchase.

If the unit fails during the first 90 days of ownership, we'll send you a new replacement unit.