As of April 10, 2014, this product has been discontinued
and replaced by the even-better DPM-9380 Digital Pocket Memo
The economical, entry-level business recorder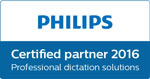 The Philips Digital Pocket Memo 9375 is an entry-level professional dictation recorder uniquely designed for the business user. Whether you are recording your thoughts on the go, recording meetings, practicing speeches, or creating business documents to be transcribed, the DPM 9375 has you covered. New features that set the DPM 9375 apart from its competitors is the ability to record directly to MP3; a quick, simple PC-based "Wizard" setup; automatic file emailing, archiving, or uploading via FTP; and fast recharge via USB. The DPM 9375 also allows you to set file urgency so your most important files get the attention they deserve.
Philips is dedicated to open standards so the DPM 9375 will record in DSS format and requires no proprietary connections or batteries.
Features
Quick, simple setup Wizard allows you to get the most from your recorder
Quick-charge through a USB connection
Record in MP3 or DSS Pro formats
Set file priority for urgent files
Full in-recorder editing capability (overwrite/insert/append/lock)
Exchangeable SD memory cards
First-in-class speech to text compatibility
Ergonomic design
Push-button control
Included at no extra cost

Technical Support
We want you to be completely happy with your purchase so we offer concierge technical support for as long as your own the product.

One Year Warranty & 30 day Guarantee
Your investment is protected by a one-year manufacturer's warranty and our 30 day money-back guarantee.
Technical Specifications
Recording Formats
DSS Pro and MP3
Memory Type
Secure Digital (SD) 2GB included
Recording Modes
Standard Play, Long Play Mobile
Sampling Frequency
SP: 12 kHz; LPm: 8kHz
Compression Rate
SP: 13.5 kbit/s; LPm: 9kbit/s
Frequency Response
SP: 200 - 5,500 Hz; LPm: 200 - 2,500 Hz
Speaker
30mm round dynamic speaker
Battery Type
2 x AAA (includes 2 x AAA Ni-MH rechargeable)
Battery Life (w/ included batteries)
SP: 17 hrs
Dimensions (W x D x H)
50mm x 116mm x 17mm
PC System Requirements (for SpeechExec software)
| | |
| --- | --- |
| Recommended System Specs | Pentium III or similar, 500 mHz, 512MB RAM (1GB for Vista), 100MB available storage |
| Connections | 1 free USB port |
| Recommended Operating System | Windows Vista, XP (SP2), 2000 (SP4), or 7 |