This product is
No Longer being Manufactured

. We recommend the Philips Pocket Memo DPM7000 as a better replacement.

Oh the difference a slide-switch makes! The Philips DPM 9380 builds on the power of the DPM 9370 by increasing efficiency and ease-of-use. The slide-switch provides tactile feedback while you control the DPM 9380 effortlessly and automatically. Download clear, compact, and industry-standard .DSS files to your computer through the included SpeechExec Dictate software. Record virtually forever with removable SD memory cards, connect to your computer through the mini-USB port (Philips is dedicated to standards compliance, no proprietary file types or connections here), and easily operate your DPM 9380 with its large backlit LCD screen, intuitive menu design, and its ergonomic design. Together it makes a complete recording package.
Features
4-position slide switch for single-handed operation
Intuitive menu control with 'Smart Buttons'
Large Backlit LCD display for an at-a-glance overview
SpeechExec Dictate software ensures easy installation and efficient handling of voice files on your PC
Automatic file download via USB for quick transcription
Compatible with industry standards: SD memory, mini-USB, AAA batteries and 3.5mm headphone and microphone sockets
Supports the compact .dss file format, the industry standard for digital recording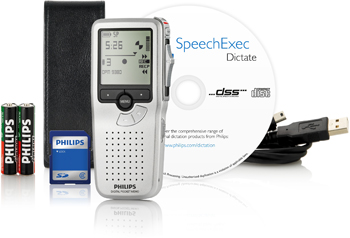 DPM 9380 shown with complete package contents.
Included at no extra cost

Technical Support
We want you to be completely happy with your purchase so we offer concierge technical support for as long as your own the product.

Free UPS Ground Shipping (USA Contiguous 48 States)
We know how important it is to get your order fast, so HTH Engineering maintains eleven shipping locations all over the country. As long as your order is placed before 3:30PM Eastern Time it will be shipped on the same business day. Orders placed on weekends or after 3:30PM Eastern Time will be shipped on the next business day.

One Year Warranty & 30 day Guarantee
Your investment is protected by a one-year manufacturer's warranty and our 30 day money-back guarantee.
Transcribe files created with the DPM 9380 using the Start-Stop UNIVERSAL Transcription System. Call us at (866) 254-0714 for quantity and bundle discounts!
This product is
No Longer being Manufactured

. We recommend the Philips Pocket Memo DPM7000 as a better replacement.
Philips LFH-9380 Digital Pocket Memo - Model #09380
Package includes:
Philips LFH-9380 Digital Pocket Memo
SD Memory card
2 AAA batteries
Leather Case
USB Cable
License ID
Instruction Manual
SpeechExec Dictate Software
The HTH Engineering Difference
Technical Specifications
Storage Media
SD / SDHC card up to 2GB
Display
Backlit 1.71" LCD, 128 x 128 pixel resolution
Device Operation
4-position slide switch
File Format
DSS
Recording Mode
| | |
| --- | --- |
| Standard Play (SP) | 349h with 2GB SD card |
| Long Play mobile (LPm) | 525h with 2GB SD card |
Sampling Frequency
Overall Frequency Response
| | |
| --- | --- |
| SP | 200-5500 Hz |
| LPm | 200-3500 Hz |
Compression Rate (SP/LPm)
13.5 kbits/s / 9kbits/s
Interface Input
| | |
| --- | --- |
| PC Interface | mini-USB 2.0 |
| Microphone jack | 3.5mm mini-jack |
Interfaces Output
| | |
| --- | --- |
| Speaker | Built-in 30mm round dynamic |
| Microphone Jack | 3.5mm/Impedance 2 kOhm |
| Earphone jack | 3.5mm/Impedance 8 Ohm or more |
Power Supply
| | |
| --- | --- |
| Power supply | 2 AAA batteries |
Dimensions
| | |
| --- | --- |
| Weight | 106g (incl. batteries) |
| WxHxD | 50 x 116 x 17mm |
Operating Systems & Requirements
Windows

Operating system: Microsoft Windows 7, Windows Vista Ultimate, Enterprise, Business, Home / XP Professional, Home Edition / 2000 Professional
CPU (Windows 2000/XP): 500 MHz processor or faster
CPU (Windows Vista): 800 MHz processor or faster
RAM (Windows 2000/XP): 128 MB or more
RAM (Windows Vista): 512 MB or more
Hard drive space (Dictation Module): 70 MB or more
Hard disk space (Microsoft .NET Framework Version 2.0): 700 MB or more
Display: 800 x 600 pixels or more 65536 colours or more
Drive: 2 x or faster CD-ROM, CD-R, CD-RW, DVD-ROM
USB port: One or more free ports
Audio I/O terminals: Windows-compatible sound
Internet Explorer 6.0 or later