Philips SpeechLive is a New & Effective Way of Working
Record your voice.
Transcribe.
Receive the text file.
Be Productive on the Go.
The Philips dictation recorder app is part of each SpeechLive subscription. The app is designed to work seamlessly with the SpeechLive dictation workflow solution. Record, edit, and send dictation files directly from your smartphone and reduce document turnaround times. You can even send dictations directly to the transcription service to maximize your productivity.
The Perfect Solution for Working for Home.
With the Work from home challenge we find ourselves in, Philips SpeechLive is the perfect solution for dictators and transcriptionists/typists to work remotely.
With Philips SpeechAir recorder, there is No physical connection needed... just send dictations instantly via Wifi from anywhere!
Transcriptionists and secretaries can work from any location in seconds with just a Philips LFH-2330 USB Foot Pedal connected to any platform.

No IT-installed software needed, be operational anywhere by just logging into a Web Browser (Safari, Chrome, Firefox, Edge, etc).
SpeechLive for Transcriptionists Works on any platform instantly! (WINDOWS, MAC, or Citrix THIN TERMINAL).
How You Can Benefit from SpeechLive
Working anywhere, anytime with constant file access.
Access and manage all your dictations through your browser from anywhere. Even without internet access, you can still work in "Local Mode." Once online again you can synchronize your dictation files.
Excellent workflow management.
Adapt it to how you work. Easily define authors and typists and assign workflow from anywhere in the world.
Be mobile.
Use the Philips voice recorder app for your smartphone to access and manage dictations. Because there is no local server required you can be anywhere at anytime.
Flexible subscriptions.
Adjust the number of SpeechLive users of your business at any time. Speechlive is designed to adapt to your needs. It now supports up to 50 users per account. Flexible subscription options that fit your budget.
Real-time Double Encryption = Highest Security Standards.
Keep your files safe with HTTPS protocol, automatic double encryption in real-time, server mirroring, and an automatic back up.
Smooth integration.
SpeechLive works perfectly with Philips dictation devices and even supports mixed environments with limited SpeechLive access. It will easily fit the way you work and with the devices you utilize.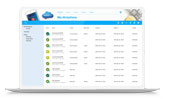 Web Browser Based Management.
No need to install any software. Simply manage your workflow through a web-browser. Foot control seamlessly interfaces, enabling transcriptionists to quickly start and stop playback.
Secure Online Storage.
Philips secures all online storage for SpeechLive, keeping your files safe from unauthorized access. All your files are encrypted automatically and stored with server mirroring keeping them secure 24/7 and accessable for you from anywhere and anytime.
Optional Speech Recognition Application.
Dictate notes or tasks into the app on your smartphone or using a Philips voice to text converter and your files will be transcribed quickly by Philips software. This speech recognition service means you will add precious time to your work day and get more done.

Backup & Restore Tool.
SpeechLive automatically backups your data, preventing accidental loss. Should your device or computer crash, lose Internet connectivity, or should you even accidentally delete your data, Speech to text converter always keeps it safe.
Double and Even Triple Encryption.
SpeechLive encrypts your data in real-time. They are also encrypted during upload and download. And for a third layer of encryption you can record in the DSS Pro file format for the highest level of protection.
Turn-Key Set-up & Support.
Installation is simple and quick. You will be using it in minutes. Plus HTH-Engineers are always here to support and assist you with Philips SpeechLive.
A Fully Compatible Solution
Philips SpeechLive is compatible with all Philips Digital Dictation Devices, including:
PocketMemo DPM8000 series
SpeechMike SMP4000 series
SpeechMike LFH3500 series
Philips SpeechAir
Philips dictation recorder apps for iPhone and Android smart devices
Payment Options
Basic
$154.80
(excl. taxes)
Web player
Smartphone app dictation (iOS and Android)
Online transcription with foot control and headset support
Works with Google Chrome (Windows & MAC) and Firefox (Windows)
Transcription service, 10 free minutes
Zapler support to integrate with other cloud apps
Speech recognition service, 5 minutes per month per user
Up to 10 users
5 GB / 25,000 min online storage
Basic workflow
Advanced
$202.80
per user/year
(excl. taxes)
Web player
Smartphone app dictation (iOS and Android)
Online transcription with foot control and headset support
Works with Google Chrome (Windows & MAC) and Firefox (Windows)
Transcription service, 10 free minutes
Zapler support to integrate with other cloud apps
Speech recognition service, 10 free minutes per month for per user
Up to 120 users. Contact us for more users
20 GB / 100,000 min online storage
Workflow with individual assignment of typists to authors
Web recorder with Philips dictation hardware support
Free live speech-to-text (beta)