The easy solution for recording phone calls on your PC
If you've ever wanted to record a phone call on your computer so that you can keep a record of the conversation than you know it's not the easiest thing to do. Figuring out how to record a phone calls with the recording software that comes with your PC isn't as simple as you think it should be.
Enter in the simple to use and install, RecordACall Software Program.
RecordACall is a recording software for PCs that makes recording a phone call simple. The phone recording software will help you store the calls as well so that you can easily retrieve past conversations and avoid misunderstandings and inaccuracies.
This handy telephone recording system is useful for law enforcement personnel, government agencies, telemarketers, lawyers, or anyone who needs phone call recording software.
Call Recording Software in a Small Package
RecordACall is a digital recording program for Windows®. This PC phone call recording software allows you to record, store, search and even send your recording using the simple user interface.
Included with the RecordACall PC phone call recording software is a key-sized license USB dongle that gives you the freedom to use it on any PC by simply plugging it into a free USB port.
A User Interface that Gets Out of Your Way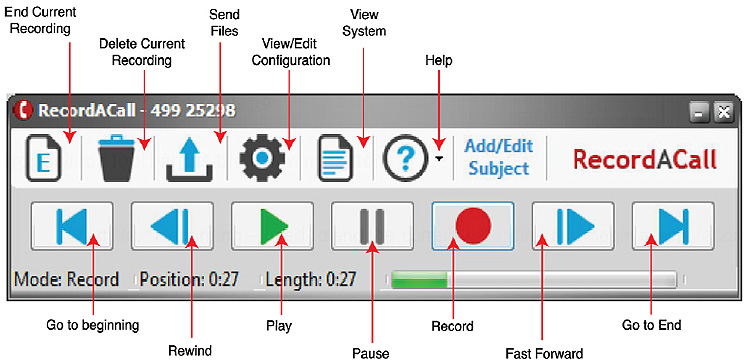 Too many options in telephone recording system can make it difficult to operate and can result in loss of concentration during a call. RecordACall phone call recording software has kept things simple and effective which means more focused time for you on what's important.
The tool bar presents you with quick and easy access to all record, store, search and send capabilities at a glance.
Compatibility with Leading Telephone Recording Adapters
The RecordACall phone call recording system is compatible with adapters like the LRX-35 Telephone Recording Adapter, the LRX-40 USB Telephone Recording Adapter, and the CM-1000 Conference Microphone.
How to Order
Order Online or speak to one of our digital dictation and transcription specialists at (866) 254-0714. Orders placed before 3:30PM Eastern Time Monday-Friday will be shipped same-day. Orders $100 and over are eligible for Free UPS Ground Shipping.
RecordACall PC Phone Recording System Software Program - Model #30685
Includes: RecordACall CD and License Dongle for Windows®-based PC's.