Add additional Olympus dictation module licenses where needed.
With this software download you can add additional Olympus Transcription Module module licenses where and when needed. It is compatible with the RS-27 and RS-31 Olympus foot pedals. This is the software that is normally included with the Olympus AS -7000 transcription kit.
Please Note: Same-day license key delivery available along with a digital software download link sent via email during business hours if order is received before 5:30pm Eastern. Otherwise the license key and software download link will be sent on the next business day.
Includes: Olympus Dictation Module Software download (currently 6.4 as of July 2016).
The Olympus Dictation Management System (ODMS) software is a dictation and transcription management software suite designed to simplify and enhance voice dictation productivity for professionals. Using ODMS, users can configure and manage their entire dictation experience, from control settings and author IDs on individual devices to system-wide security and workflow preferences.
This software download allows users to edit and route files automatically within their workflow sending their voice documents to transcriptionists, voice-recognition software like Nuance®'s Dragon® software, and to archive locations for file management.
Industry-leading device and workflow management solutions
Efficiently route files within the organization via FTP, server, or email
Fast, flexible speech-to-text workflow, with speech recognition
Uses both Standalone and Workgroup modes for small and large offices
Centrally manage multiple users via administrative control settings
256-bit file encryption in combination with DSS Pro audio codec
Works great with the Dragon NaturallySpeaking product line.
Supports PC Windows® Vista, Windows 7, Windows 8, Windows 10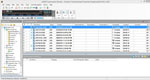 Click for Larger Image
ODMS Transcription Module
The ODMS transcription module main screen provides convenient organized access to each incoming dictation with duration date created an author information in a convenient spreadsheet.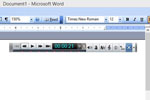 Click for Larger Image
Tool Bar
Clicking on any one of the dictations causes the interface to display a small toolbar that can be positioned on Microsoft Word or any other program you're using for typing, while playing back under foot pedal control.
Technical Specifications:
Operating System
Standalone System: Microsoft Windows (XP, Vista, 7) Workgroup System: Microsoft Windows (XP, Vista, 7, 8, Server 2003 SP2, Server 2003 R2 SP2, Server 2008 SP2, Server 2008 R2, Server 2012)
CPU
Microsoft Windows XP: 1 GHz or higher; Vista: 1 GHz or higher; Windows 7: 1 GHz or higher' Server 2003: 1 GHz or higher; Server 2008: 2 GHz or higher
Memory
Microsoft Windows XP: 256 MB or higher; Vista: 1 GB or higher; Windows 7: 1 GB or
higher (x86)/2 GB or higher (x64); Windows 8: 1 GB or higher (x86)/2 GB or higher (x64);
Server 2003: 256 MB or higher; Server 2008: 2 GB or higher
HDD Space
At least 2 GB of free space
.NET Framework
.NET Framework 4.0 or higher
Drive
Installed CD-Rom drive
Display
1024 x 768 pixel resolution or higher
65,536 colors or more (16.77 million colors or more recommended)
Browser
Microsoft Internet Explorer 6.0 or later (with the latest Service Pack applied)
USB
With the Dictation Module and Transcription Module; one or more USB ports available
Audio Device
With the Dictation Module and Transcription Module:
A Microsoft WDM- or MME-compliant and Windows-compatible sound device
Virtual Environment Platform
(Workgroup System only)
Windows Terminal Services: Microsoft Windows Server 2003/2008/2012 Terminal Services
(requires separate RDS[TS] CAL license), Microsoft Windows Server 2008/2012 RemoteApp
(requires separate RDS CAL license); Citrix Presentation Server: Citrix Presentation Server 4.5
(requires Citrix Online Plugin 12.0.0 or higher), XenApp 5/6/6.5 (requires Citrix Online Plugin
12.0.0 or higher), XenDesktop 4/5/5.6; VMware: VMware View 4.5/5
Supported Languages
English, French, German, Spanish, Russian, Swedish, Czech