Specifications for Start-Stop™ UNIVERSAL
Page 2
---
Main Screen Features (Version 9.8) (Continued...)
File History Shows Recently Opened Files
Shows the last 8 files that you have opened, for easy access to re-open. Shows the path so you never have to guess where the file is located.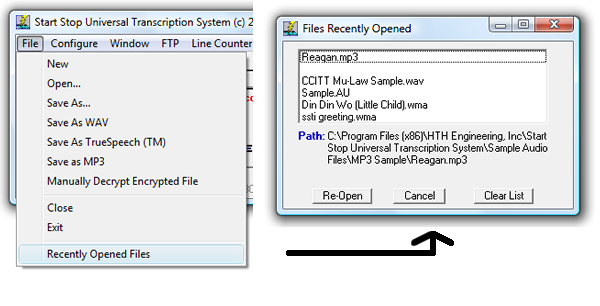 Keyboard-Operated HOT KEYS
ALT + Up Arrow =Right Pedal Down
ALT + Down Arrow =-Right Pedal Released
ALT + Left Arrow = Step Back
ALT + Right Arrow = Step Forward
ALT + PAGE UP = Increase Playback SPEED
ALT + PAGE DOWN = Decrease Playback SPEED
ALT + HOME = Return Playback SPEED to NORMAL (100%)
The Start Stop Transcription Interface automatically time-stamps each file ("Accu-Stamp"). Main screen will display real time accurately for SSTI-generated .WAV Files.
Each Pedal can be user-assigned to perform any transcription action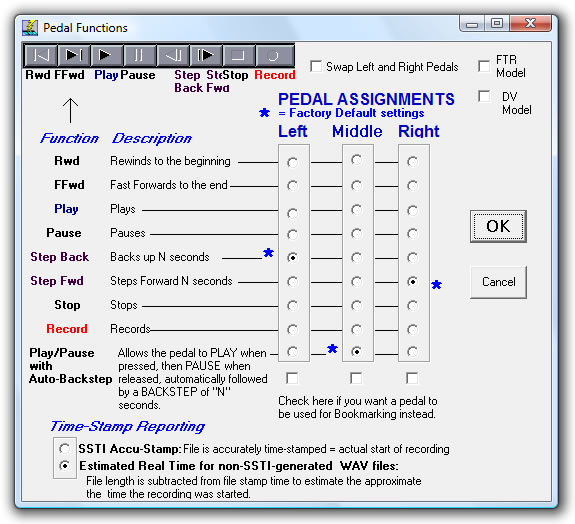 Real Player(TM), Real Audio(TM), Real Video(TM) and logo are Registered Trademarks of Real Networks, Inc.; Quicktime(TM) and logo are Registered Trademarks of Apple Corporation TrueSpeech(TM) is a Registered Trademark of the DSP Group, Inc.