SUPERSCOPE's most advanced portable digital audio recorder. SUPER-easy to use.
The SUPERSCOPE PSD450mkll is designed for the easy, flexible use and works great for the non-technical and the technical user. Highly portable and designed with security and simultaneous backup of recordings makes it a great choice anyone needing reliable recording equipment.
The PSD450mkll is a perfect choice for transcription applications and/or recordings in fields like Law Enforcement, Business Meetings, Government, Houses of Worship, Education Institutions, and Health Care. It is a fully featured recorder with a short learning curve that makes is easy-to-use.
Key Features:
Built-in 16gb Solid State Drive (SSD)
Built-in CD Recorder, including Direct to CD Recording
Built-in USB port for direct connection of USB Flash Drive or even a USB External Hard-drive for direct recording/playback
Built in USB port for direct virtual drive connection to a PC or MAC computer
Make simultaneous to internal SSD and USB flash drive for convenience and security for backups.
SUPERSCOPE PSD450mkll Digital Audio Recorder Benefits & Features
Superscope PSD450mkll Digital Audio Recorder
Model #77520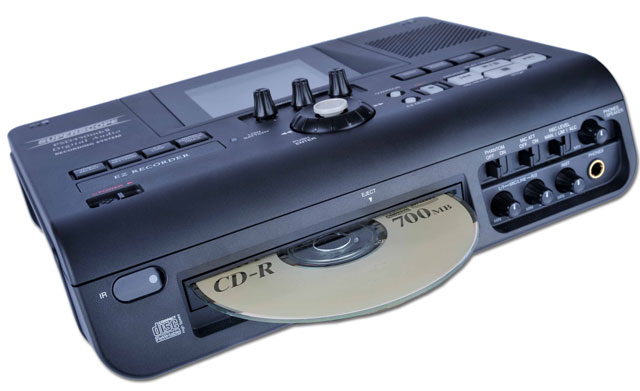 In Stock for Immediate Delivery
(same day shipping for all orders placed by 3:30 p.m. EDT)
Call
(866) 254-0714

to Get Your Custom Quote
Package Includes:
Superscope PSD450mkll Digital Recorder
AC Adapter
User Guide
PLUS:
Free UPS Ground shipping within the USA (48 states)
Exclusive HTH Engineering "Concierge" Turn-Key Tech Support and Free Unlimited Support Via GotoMeeting and/or telephone
PSD450mkll Digital Audio Recorder Technical Specifications
Number of Recording Channels
Recording/Playback Formats

WAV, MP3, CD-DA
16bit/24bit Recording Format
MP3 Stereo 64 ~ 320 Kbps
MP3 Mono 32 ~ 160 Kbps

A/D Conversions & D/A Conversion
Sampling Rates
Maximum Recording File Size
Display

High-resolution 3.5-inch LCD Color Display

Power Requirements

15 VDC 1.6A
AC 100 - 240 V 50/60 Hz Power Supply
Battery 8 X "AA" Alkaline or Ni-MH

Dimensions

10.5(W) 3.3(H) 7.8(D) in
269 (W) 81 (H) 202 (D) mm

Weight (without batteries)
Operating Temperature
Internal Speaker
Internal Microphones
Phantom Power Supply
USB

USB 2.0 High Speed/Mass Storage Class

Audio

Analog to Digital Converter 24 Bit Resolution
Digital to Analog Converter 24 Bit Resolution
Frequency Response 20 Hz to 20 KHz +/- 1 dB
Line Output Level 2.2 Vrms, 300W
Headphone Output Level 30m W, 32 Ω, 10% THD
Speaker Output Level 2 W, 8 Ω, 10% THD
Digital Output Level 0.5 Vp-p, 75 W Load

Mic Level

Input Sensitivity 1.2 mV, 12 KΩ
THD 0.18%
S/N 60 dB A-WTD
Max. Input Level 75 mV RMS (Mic. ATT OFF), 375 mV RMS (Mic. ATT ON)

Line Level

Input Sensitivity 500 mV, 12 KΩ
THD 0.01%
S/N 92 dB A-WTD
Max. Input Level 4.0 V

Instrument Level (High Gain)

Input Sensitivity 10 mV, 1 MΩ
THD 0.03%
S/N 72 dB A-WTD
Max. Input Level 670 mV

Instrument Level (Low Gain)

Input Sensitivity 500 mV, 22 KΩ
THD 0.01%
S/N 92 dB A-WTD
Max. Input Level 3500 mV

AUX Input

Input Sensitivity 500 mV, 22 KΩ
THD 0.01%
S/N 92 dB A-WTD
Max. Input Level No Limit