Add Olympus dictation module licenses when needed
The latest ODMS Release 7 Dictation Module coordinates all your dictation devices with your workflow making sharing dictated files easy and efficient.
This software download is compatible with the Olympus DS-3500, DS-7000, and the new DS-9000 and DS-9500.
Please Note: Same-day license key delivery available will be sent via email, along with a digital software download link during business hours if order is received before 5:30pm Eastern. Otherwise it will be sent on the next business day.
The Olympus Dictation Management System (ODMS) software is a dictation management software suite designed to simplify and enhance voice dictation productivity for professionals. With this Olympus dictation software, users can configure and manage their entire dictation experience, from control settings and author IDs on individual devices to system-wide security and workflow preferences.
The latest release of Olympus ODMS R7 includes a New Start-up Wizard and will now incorporate the WiFi features built into the new DS-9500 enabling your organization to successfully implement real-time dictation file sharing like never before. The ODMS helps workflow automation in both on-site and and off-site environments and uses rules for your workflow and file routing to make your daily work efficient. 256-bit file encryption means that your files are secured and protected.
This software download of Olympus ODMS R7 allows users to edit and route files automatically within their workflow sending their voice documents to transcriptionists, voice-recognition software like Nuance®'s Dragon® software, and to archive locations for file management.
Creates a wireless workflow with the Olympus DS-9500 Professional Dictation Digital Recorder
New Start-Up Wizard allows for quick installation and configuration
Industry-leading device and workflow management solutions
Efficiently route files within the organization via FTP, server, or email
Fast, flexible speech-to-text workflow, with speech recognition
Uses both Standalone and Workgroup modes for small and large offices
Centrally manage multiple users via administrative control settings
256-bit file encryption in combination with DSS Pro audio codec
This Olympus dictation software works great with the Nuance Dragon product line
Supports PC Windows® XP, Vista, Windows 7, Windows 8, Windows 10, Windows 11 as well as Mac OS 10.10.4 and Mac OS 10.15
Setup of Workflow and Device Configuration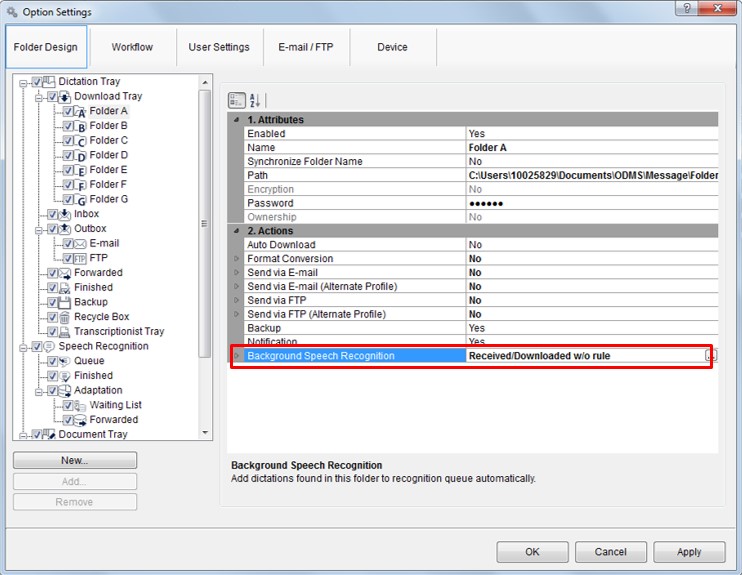 Specifications
Operating System
Standalone System: Microsoft Windows (11,10, 8, 7, Vista,XP )
Workgroup System: Microsoft Windows (11,10, 8, 7, Vista, XP, Server 2012 R2, Server 2012, 2008 R2 SP1, Server2003 R2 SP2 )
Mac OS 10.10.4 and Mac OS 10.15
CPU
Microsoft Windows 10/11: 1 GHz or higher
Windows 8: 1 GHz or higher
Windows 7: 1 GHz or higher
Vista: 1 GHz or higher
XP: 1GHz or higher
Server 2012: 2GHz or higher
Server 2008: 2 GHz or higher
Server 2003: 1GHz or higher
Memory
Microsoft Windows 10/11: 1 GB or more (x86) / 2 GB or more (x64)
Windows 7: 1 GB or higher (x86)/2 GB or higher (x64)
Windows 8: 1 GB or higher (x86)/2 GB or higher (x64)
Vista: 1 GB or higher;
XP: 256MB or higher
Server 2012: 2 GB or higher
Server 2008: 2 GB or higher
Server 2003: 256 MB or higher
Audio Device
With the Dictation Module and Transcription Module: A Microsoft WDM- or MME-compliant and Windows-compatible sound device
Virtual Environment Platform (Workgroup System only)
Windows Terminal Services:Microsoft Windows Server 2003/2008/2012 Terminal Services (requires separate RDS[TS] CAL license), Microsoft Windows Server 2008-2016 RemoteApp (requires separate RDS CAL license)
Citrix Presentation Server: XenApp 5 / 6 / 7 - 7.15, XenDesktop 7 - 7.15, Citrix Receiver 4.0 or later (using citrix virtual environments requires a separate Citrix user license.
VMware: VMware View: Horizon View 5/6, Horizon 7 - 7.2, VMware View Client 5.0.1 or later (Using VMware view requires a separate VMware view user license)
Supported Languages
English
French
German
Spanish
Russian
Swedish
Czech
Dictation Operation
Send finished dictation by e-mail or FTP manually or automatically
Playback & Recording
DSS/WAV/WMA/MP3 playback
DSS/WMA/WAV recording
DSS Pro encryption recording
Edit Control
VCVA
Speed/Tone/Noise cancel/Volume control
Insert/Overwrite mode
Set index mark
Others
Automatic software update via internet
Hardware Configuration
Device option settings
Device menu settings
Assign function to programmable button
Directrec configuration
Device Customization
Device customization
Assign function to programmable button
Exchange button/slide switch function
Encryption password setting to individual folder
Workflow
Automatic download of individual folder at device plug-in
Automatic file format conversion (DSS, DS2, WAV, WMA) at download
Workgroup Administration
License Manager
Multiple license management: Pro R5 and ODMS
Concurrent license: Pro R5 and ODMS
System Configuration Program
User profile management: Pro R5 and ODMS
Group profile management
Silent Setup
Virtual environment
Citrix XenDesktop: Ver 4/5
Citrix XenApp: Ver 5/6
Citrix Presentation Server: Ver 4.5
Citrix client virtual driver
Other Technical Data
HDD space: At least 2 GB of free space
.NET Framework: .NET Framework 4.0 or higher
Drive: CD-ROM drive installed
Display: 1024 x 768 pixel resolution or higher, 65,536 colors or more (16.77 million colors or more recommended)
Browser: Microsoft Internet Explorer 6.0 or later (with the latest Service Pack applied)
USB: With the Dictation Module and Transcription Module; one or more USB ports available