Bonus!! All New Dragon Medical One Subscriptions now include Nuance PowerMic Mobile App at No additional cost!*
Use your cell phone and Dragon® Medical One to instantly create transcribed patient notes from ANYWHERE without the need of a transcription service!
*$20 a month value now included free with new subscriptions!
Unleash Medical Speech Recognition Software through Cloud Computing
with
Dragon Medical One
Automatic Accent Detection
Instantly detects your regional accent for more precise documentation
Create User Profiles Instantly
Clinicians can create a profile easily and start documenting in minutes
Easy Installation*
After initial setup and integration, installation is easy and in just minutes you will be creating patient notes
No Per-Device Limits
Clinicians can stay productive while using their Windows-based device and focus on the unique patient story rather than usage limits
Overview
Nuance Dragon® Medical One can quickly and painlessly bring your practice into the present and allow you to convert to an EHR with ease.
Dragon® Medical One can be installed on any Windows-based clinical workstation or laptop. Once installed, clinicians simply open the app from the Windows Start menu, place the cursor where they want speech-recognized text to appear,and start dictating into any clinical or non-clinical, Windows-based application (e.g., EHR, Microsoft Outlook®, Microsoft Word®).
Fast, extremely responsive, and highly accurate out-of-the-box (without the box), Dragon® Medical One provides clinical speech recognition and speech profiles that can be easily accessed across multiple devices.
Portable:
Dragon® Medical One is designed for speed, accuracy and flexibility. This medical speech recognition software features speech profiles that can be accessed and shared across the widest range of devices in the industry.
Limitless Productivity:
This medical speech recognition software gives your users the ability to speak freely and as much as they like. There are no per-device limits so clinicians can stay productive anywhere.
Budget-Friendly:
You don't need a huge budget to get huge benefits. Our medical speech recognition software offers affordable subscription-based pricing so there's little up-front capital investment.
Always Up-to-Date:
Because Dragon Medical One is a cloud based subscription service, you will always have the latest updates and the newest editions. The latest updates have been to the Nuance Management Server 6.1 and the Dragon Medical Chrome Extension 1.41. These updates increase security for end users, improve database performance, and improve integration with Chrome-based EHRs.
*The one-time Implementation Fee includes:
Thin clients may require additional implementation and costs.

Exclusively from HTH Engineering, Inc
FREE Dragon Medical Templates! Exclusively from HTH Engineering! With your purchase of Dragon Medical One receive at no extra charge, exclusive access to HTH Engineering's exclusive Dragon-certified Stock Medical Template Library! 3000+ customizable templates in various medical specialties are free with your Dragon Medical One Subscription from HTH Engineering Inc.! A $740+ value!
Unlimited support and training from our HTH Engineering, Inc. certified Dragon techs and engineers (not just 8 hours)!
Access to HTH Engineering, Inc's Dragon Medical One Knowledge-base, as it grows
Free deployment of templates across your user base, or subsets of that user base for multiple doctors/providers.
Dragon Medical One subscriptions now include:
Dragon Medical Analytics: gives system administrators access to individual and site-wide usage metrics and trends
Single Roaming Voice Profile
All updates and upgrades
Access to PowerMic™ Mobile ( learn more) ( Subscribe Now)
Exclusively from HTH Engineering: Free Templates and Free Customization
Not only do we have 3000+ in ready-to-use templates free of charge to use, but we are also happy to help you customize templates specific to your needs!
Exclusively from HTH Engineering: Free Migration Support
HTH Engineering, Inc., is happy to move existing created templates, macros or customizations into the cloud, at no additional cost, for previously owned versions of Dragon Medical.
Group/Cloud Deployment
These customizations can be applied nearly instantly across an entire group or a subgroup or individuals, using the Nuance Management Center (NMC) for central control.
Exclusively from HTH Engineering: Free EMR Integration
Since Dragon Medical one works with virtually all EMR's, our company will help you optimize workflow of Dragon Medical One with your cloud-based or desktop-based EMR, via GoToMeeting and/or telephone.
We can do this with virtually any and all EMR's, and.... with the use of the PowerMic 3 or other pushbutton microphone, we can help you optimize every button and function of your microphone for best performance and customization with your particular EMR.
What Physicians Are Saying
What are you waiting for?
Take control of the cloud with Start-Stop's help and Save
Time and Money with Dragon® Medical One.
Click to buy Dragon® Medical One now or call the number below to schedule a demo.
1-866-254-0714

Learn More about PowerMic Mobile AppPowerMic Mobile App is now Included with your subscription to Dragon Medical One as of 7/23/2019.
Great Accessories and Exclusive Accessories for Dragon Medical One only from HTH Engineering! To enhance your experience
Take a look at these great choices. Certified for use with Dragon Medical One®!
Philips SpeechOne Wireless Dictation Headset
New! Hands free for Dragon Medical One! Local mute/unmute. Perfect for radiologists or anyone who dictates hands free.
INQUIRE ABOUT SPECIAL PACKAGE DISCOUNTS with your purchase of any Dragon Medical One Subscription with above accessories!
Free 32+ Clinical Calculators
Dragon Medical Clinical Calculators allow for easy calculation of various scores and indices within a user-friendly interface.
Clinicians increase productivity while improving charting compliance and supporting consistent and complete clinical documentation.
Clinical Calculators support informed clinical decision-making through access to 30+ evidence-based calculators - medical equations, scores, and algorithms - that are based on well-established methodologies that have been present in the medical literature for over ten years and approved by third-party health associations.
e.g.: Clinical Calculators for Ambulatory
CHADS2 Score for Stroke Risk in Atrial Fibrillation
Creatinine Clearance
CURB-65 Severity Score for CAP
Fractional Excretion of Sodium (FENa)
Framingham Coronary Heart Disease Risk Score
HIV Needle Stick Risk Assessment Stratification Protocol (RASP)
Modified Centor Score for Strep Pharyngitis
Ottawa Ankle Rules/Knee Rules
PSI/PORT Score: Pneumonia Severity Index for Adult CAP
Pregnancy Due Dates Calculator
Well's Criteria for Deep Vein Thrombosis
Westley Croup Score
New Feature – Just added March 2022 to Dragon Medical One:
MD Calc –exclusive medical calculators– just say
"Hey Dragon – Show me…___ in MD Calc"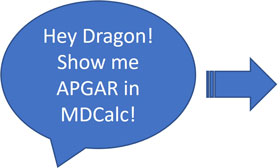 Download the MDCalc Sheet HERE.
Download the MDCalc FACT Sheet HERE.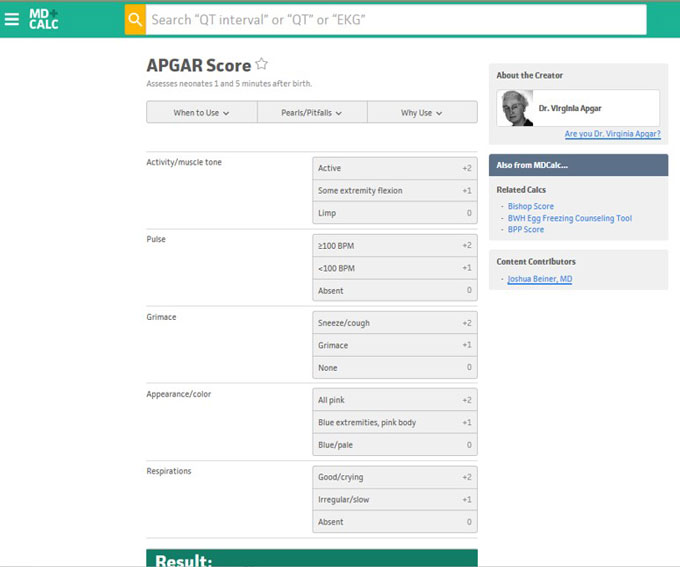 See how Nuance Dragon Medical One can save you time!
Peachtree Spine reduces physician burnout with Dragon Medical One
Witness how Dragon Medical One saves you time
See PowerMic Mobile in action
Watch how Dragon Medical One helps with documentation.
Dragon Medical One optimizes your workflow
Watch us Demonstrate Dragon Medical One
Documents and Data Sheets for Dragon Medical One and Related Products/Features:
---
Additional Resources
Workflow Enhancement Tools
HTH Engineering Exclusive